In Loving Memory of Mia
Mia's legacy lives on
One blustery winter day WFLF's animal cruelty investigators received a tip about several Thoroughbred race horses that had been dumped straight off the racetrack onto a "kill lot" in California, where horse slaughter is illegal. The skies were dark and cloudy, and there was little hope for these betrayed innocent souls who were left to wallow away their last few days in mud and manure up to their bellies before being shipped to slaughter.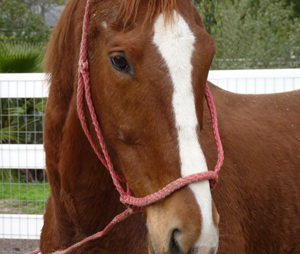 Mia, a registered Thoroughbred was reportedly amongst the group of racehorses that had been dumped. Thankfully these horses were rescued by WFLF and brought to a private facility where they were bathed in love and professional care. Although they were extremely traumatized and worn upon their arrival, they knew they were now safe and the process of recovery began.
During the intake process, it was discovered that Mia was missing. After washing off the layers of mud, it was clear that the Mia was not in the group of rescue Thoroughbreds.
A second rescue attempt was made and luckily Mia had not yet been shipped. Frightened, thin and broken hearted, sweet Mia had paired up with 3 year old off track mare that was dumped during the days in between.
Mia and her new found friend were saved and brought straight into a special care unit under WFLF's Safe Haven Program. Mia was the only Registered Thoroughbred whose Jockey Club papers had not been destroyed and with a thorough investigation it was determined that she had never actually raced. A large scar left on Mia's front shoulder was evidence of a past injury she had sustained.
Following their full recovery Mia and her friend were placed into WFLF's rehabilitation and sanctuary program where they and several other rescued Thoroughbreds have been provided with quality care, training and the guarantee of forever safe harbor.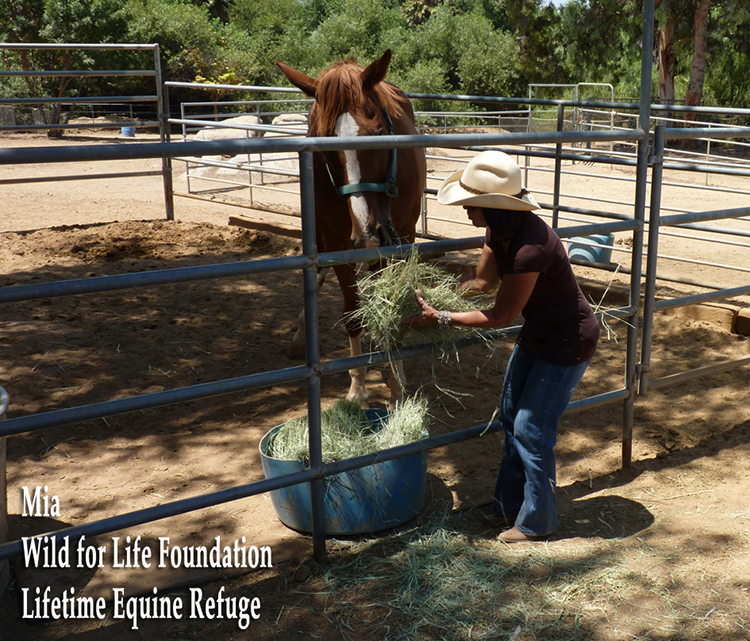 Mia had the hands of angels upon her and was bathed in love from the time she was rescued. However for sweet Mia her struggles were far beyond what anyone could imagine. Mia had been diagnosed with Lymphangitis, an incurable condition with irregular and sudden flare ups which were treated with very specialized care. She successfully recovered from the variable onsets and went on to live a happy peaceful life for many years under WFLF's sanctuary program. She was a true fighter and strong willed survivor, but just recently Mia passed away. Mia was surrounded in sacred beauty through to her final moments at WFLF's loving sanctuary where our dedicated team of professionals and volunteers never once gave up on her.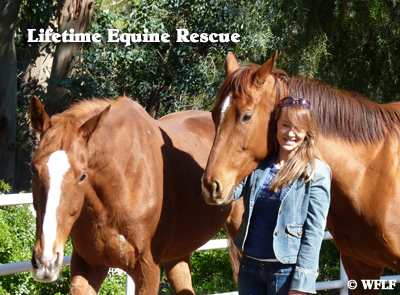 Mia's sweet and strong spirit will live on forever as a true Ambassador for the world's horses. This brave warrior mare taught by example of how to forgive and trust in the face of betrayal… and how to be strong against all odds. She lived her life with honor and courage. And, just as she looked out for her family of rescued equine friends, Mia now continues to watch over the horse nation from the heavens above.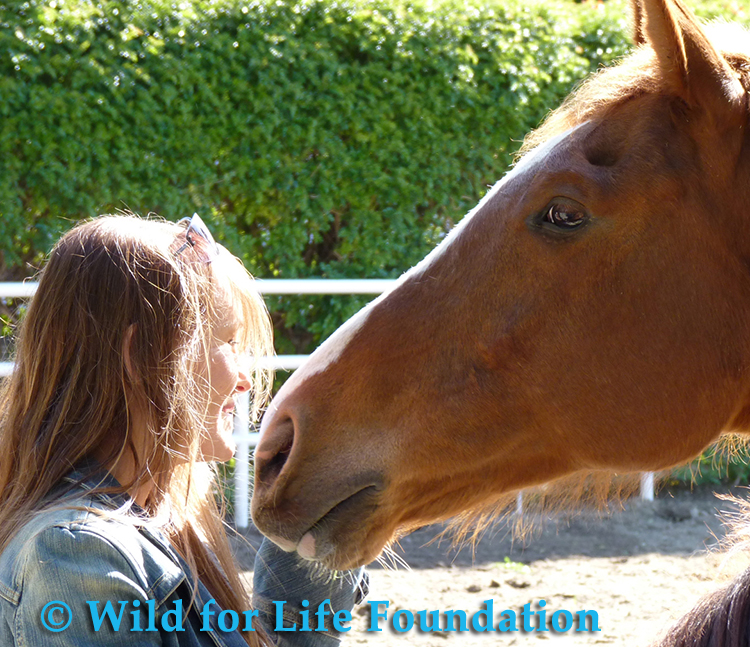 The significant marking of time in the lives of these sacred and historic sentient beings, sends a powerful message of just how delicate and precious life is, and how important it is to protect and honor these majestic four-legged relatives. These sacred animals heal our hearts and can in truth heal our lands. Through Mia's inspirational story of courage and survival, she will continue to strengthen our hearts and bring us hope for generations to come.
- - - - - - - - - - - - - - - - - - - - - - - - - - - - - - - - - - - - - - - - - - - - - - - - - - - - - - - - - - - - - - - - - - - - - - -
WFLF has very big vet expenses. If you would like to make a tax deductible donation to help offset these costs or help with vet expenses for other equines as the urgent need arises, please consider making a donation today. Thank you