Equine Rehabilitation:
Wild For Life Foundation strives to provide recovery/ rehabilitation services to benefit victimized wild and domestic horses and burros in need. Incoming wild horses and burros who've lost their freedom, and their homes in the wild are provided rescue and sanctuary services, and and when possible, reunited together in their family bands. In support of the very special bonds, these sentient beings are placed with respect to their social structures.
Our rehabilitation program begins upon the arrival of each incoming equine, and rehabilitation for every equine first begins with rest and recovery. The level and type of individual rehabilitation each equine receives thereafter is based on the their individual needs, their breed, their physical condition, social and emotional development, their age, and their overall general background.
Equine Social Enrichment:
Each incoming animal's placement at our Sanctuary Program is carefully analyzed and monitored with great respect given to individual family and social bonds. Additional factors including individual age, gender, behavioral patterns and herd dynamics are closely monitored to foster a healthy, peaceful and fulfilling life for each and every animal at our Sanctuary.
Sometimes domestic or humanized equines come to our facilities resentful and untrusting of humans due to a pre-existing history of abuse or violence. We strive to nurture the mind, body and soul of each animal using kindness to cultivate a trusting relationship with human(s), and overtime their attitudes and behaviors change. Our gentle, soothing rescue and rehabilitation process allows horses, foals and burros who have arrived-in-shock to heal in a calm and safe environment.
Equine Training:
Humane and natural horsemenship training is provided to enhance and increase the successful transition and placement of previously neglected and injured domestic equines. Professional trainers evaluate signs of previous training, correct behavioral problems and work to instill a foundation of solid basic manners. Training may also include the provision of ground manners and skills, and sometimes, training under saddle. Through equine sponsorships, adoption and therapeutic candidates may additionally receive sponsorships for specialized training to aid in their successful transition to new carreers. Consideration of placement of equines into adoptive homes and therapeutic programming is done on a case by case basis. A number of rescued equines under our rehabilitation and training program have gone on to become participants in WFLF's Healing Hearts Community Enrichment program.
Sanctuary:
Wild Mustangs, burros and other equines who are not suitable for adoption, therapeutic programming or community enrichment activities are placed through our sanctuary program.
---
In the News! Sept 12, 2016

Wild For Life Foundation Awarded Grant from ASPCA to for Training to Help Horses in Need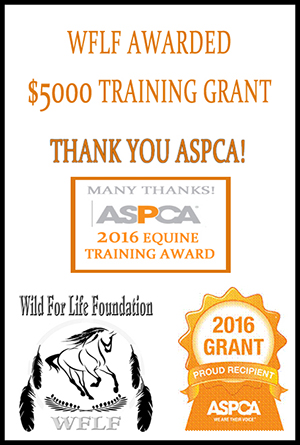 $5000 Grant Awarded to Improve Adoption Rates through Training
The Wild For Life Foundation (WFLF) today announced that it has received a $5,000 grant from the ASPCA®. The grant money will be used as funding to hire trainer(s) for rescue horses to evaluate previous training, correct behavioral problems, basic manners, to providing ground training and training under saddle.

For over eight years WFLF has been saving animals from abuse and neglect and often the animals return to full health. "Many of our horses come to us from law enforcement cases and are rescued from other life threatening situations. They are neglected, abused, and stray. We don't know how much, if any, training they've received before coming to us. Some are candidates for socialization and training (particularly those born after their mothers come into the rescue), and this training fund will benefit them," said Katia Louise, Executive Director of WFLF. "This grant allows us to find out what our horses know and provide the training that will help them find new homes."
"The ASPCA is grateful to rescue groups like the Wild For Life Foundation who step in to care for and rehabilitate horses who have been abused or neglected," said Jacque Schultz, senior director of the ASPCA Equine Fund. "We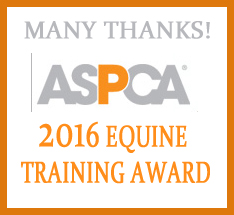 are pleased to award them this grant to assist their efforts to protect horses in need, and we applaud their commitment to equine training." The ASPCA Equine Fund grants program awards equine organizations which strive to achieve best practices, including excellent animal care, and whose focus and expertise is concentrated on reducing the suffering of equines who have lost their homes or been cruelly treated. (See press release)
The Wild For Life Foundation (WFLF) is a 501(c)3 nonprofit organization dedicated to elevating life and healing through animal rescue, sanctuary, and education. WFLF is a grassroots charity established for the prevention of cruelty to animals with a focus on animal and wildlife protection. Among our greatest concerns are imperiled wild horses and burros, abused, neglected and slaughter bound wild and domestic equines, and inadequate standards of protection for America's equine population as a whole. If you would like to help this cause please consider donating, fostering or adopting. Every little bit helps us to help another animal in need of safety and rehabilitation.

The Wild For Life Foundation (WFLF) is proud recipient of the Parelli Natural Horsemanship and Education Institute 2013 Educational Award. Through Parelli Natural Horsemanship and the Parelli Education Institute, WFLF is helping to help create a better world for humans and horses. Parelli Natural Horsemanship and Education Institute materials including CDs, DVDs and printed materials have been awarded to WFLF to help further natural horsemanship partnerships between horses and people. As a Parelli Educational Award recipient, WFLF is able to make Parelli Educational Materials available to its staff and volunteers to learn about improved safety and helping horses overcome many of the challenges they face when finding a new home.
The Parelli Educational Award is an expression of the Parelli Natural Horsemanship and Education Institute's deeply held commitment to supporting its mission and ensuring that natural horsemanship can be available to the organizations who are working to make a difference for young horsemen, horse welfare, and therapeutic horsemanship. Thanks to the generosity of Parelli Natural Horsemanship, the Parelli Education Institute, a nonprofit dedicated to natural horsemanship education, the Wild For Life Foundation is able to enhance its equine rehabilitation and training program through the utilization of Parelli Natural Horsemanship and Educational Materials.


---
Fundamental to the core of Wild For Life Foundation's equine rescue amd recovery program is our commitment to assure a forever safe harbor for each and every equine that comes through our doors. Needy horses and burros receive ongoing care, including urgent veterinary medical care, nutritional food, farrier care and the assurance of a safe, peaceful forever placement where they will never be at risk of abuse, neglect, round up or slaughter again.

---
There is no minimum amount for contributions made directly to the Wild for Life Foundation to help support this lifesaving program
Make a lifesaving donation in any amount