EQUINE RESCUE, RECOVERY & PROTECTION
We provide lifesaving medical care, food, shelter and a 2nd chance at life for rescued wild and domestic equines coming in from across the US. We rescue abused, neglected and at risk equines of all breeds, ages and disabilities, and assure their life-long safety, peace and health.
REHABILITATION & TRAINING
We work to elevate responsible equine guardianship through compassionate mentoring and strive to provide learning experiences that advance natural partnerships between horses and people. Rehabilitation services are provided including enrichment activities and training to enhance and increase the successful transition and placement of abused, neglected and injured equines who've been rescued from life threatening situations.
SANCTUARY AND RETIREMENT
Sanctuary and retirement services are provided for rescued equines of most every breed and discipline. Many of these equines were saved from abuse, neglect and life threatening danger, including seizure cases by law enforcement. WFLF's Sanctuary and Retirement Program serves senior equines who have been discarded into the slaughter pipeline, equines who have been permanently disabled, and equines who have been so severely traumatized that they need to live out the remainder of their lives in a sanctuary setting. These rescued equines are given an opportunity to fully heal and live out their lives in safety and peace.
WILD HORSE & BURRO SANCTUARY PROGRAM
Rescued wild equines saved from life threatening situations are given an opportunity to heal and thrive in safe and peaceful settings. Fundamental to the core of WFLF's equine sanctuary program is our commitment to assure safe harbor for each and every animal that comes through our doors.
EDUCATIONAL MULTI-MEDIA PROGRAM
Saving America's Horses is the primary educational program and initative under WFLF. WFLF's Saving America's Horses Initiative and its 'Give Horses Hope' campaign is dedicated to wild horse preservation and the prevention of equine cruelty through elevating lifesaving stewardship and the healing hearts of horses. The lifesaving program brings crucial aid to horses and burros in need, and strives to inspire the public to take a more active role in protecting and caring for wild and domestic horses. The program delivers a broad and balanced reflection of compelling prevention, conservation and preservation ethics—ways that illuminate how letting go of the old can lead to paths of healing and harmonious coexistence.

Wild for Life Foundation's educational award winning film "Saving America's Horses" awakens the moral fabric of humanity. This 90 minute feature documentary released to theaters is a powerful platform with a dynamic reach to horse lovers worldwide. "Saving America's Horses: A Nation Betrayed" is an educational documentary film project under WFLF's Humanion Films, created as an social action tool for people who want to engage. SAVING AMERICA'S HORSES is a central tool in a larger grassroots effort focused on saving this indigenous species for the greater good, and supporting the wildlife and natural ecosystems that depend on them now and for generations to come.

JUSTICE FOR HORSES - LEGAL PROTECTION & DEFENSE FUND


Justice For Horses is a legal protection and defense fund which serves to support the lifesaving protective work for animals that WFLF conducts every day of the year.

SANCTUARY LAND


One of Wild for Life Foundation's most important goals is to acquire land held in perpetuity for America's horses. Equine sanctuary land acquisition is sought for the provision of lifelong safe harbor and preservation of these majestic animals who are otherwise caught in the constant crossfire of competing commercial land use interests.

WILD EQUINE INDIGENOUS HERITAGE PROJECT


WFLF's Wild Equine Indigenous Heritage Project is dedicated to the preservation and lifesaving protection of America's wild horses and burros and their heritage through the creation of sanctuary/ preserve programs, education and advocacy.

BACK TO THE WILD

Back to the Wild is a program under WFLF's Wild Equine Indigenous Heritage Program which strives to preserve and protect one of America's most iconic species, equines, before they become extinct in the wild. This program strives to raise awareness related to the recognition of equines as a Native Species to North America. Program objectives include 1) promoting the rejuvenation of ecosystems and wildlife through the re-introduction of wild equines to their legal open range-lands in the U.S., 2) providing the public with education and elevated appreciation for the continued protection and preservation of America's wild equines, 3) protection and preservation services which directly serve and benefit equines residing in the wild, 4) rescue, placement and protection services for captured wild equines which then become imperiled, victimized, threatened, homeless and slaughter bound. Through this program we promote harmony for animals and nature; for their protection against today's world of competing commercial interests (e.g., agriculture, industry, energy, recreation and urban sprawl).

LIFETIME EQUINE REFUGE

Lifetime Equine Refuge is WFLF's primary equine rescue and sanctuary program through which WFLF provides medical care, food, shelter and a 2nd chance at life for rescued wild and domestic equines who need assistance or are surrendered and accepted into our program from across the US. We offer these rescue services to abused, neglected and at risk equines of all breeds, ages and disabilities, for the purpose of providing for their safety, peace, health and well being.

OPERATION OFF-TRACK THOROUGHBRED (OTTB)


OPERATION OTTB is our Thoroughbred rescue and sanctuary program for at risk Thoroughbreds which serves to provide lifesaving medical care, food, shelter and a 2nd chance at life for rescued Thoroughbreds. Rehabilitation services include enrichment and training to enhance and increase the successful recovery, transition and placement of abused, neglected and injured equines who've been rescued from life threatening situations.


HEALING HEARTS

Healing Hearts is an important component to Wild For Life Foundation's vision in community enrichment programming. Through the healing hearts of horses we promote and strive to provide community equine wellness enrichment learning and healing.

COMPANION ANIMAL RESCUE AND SANCTUARY


WFLF has been at the forefront of efforts in the fight against the organized inhumane exploitation of canines including shelter cruelty, breed discrimination, vivisection, their use as food and fiber, and the inadequate standards of protection for the canine population as a whole. On a limited basis we offer lifesaving rescue and a second chance at life to homeless, distressed and displaced canines through rescue, education and sanctuary. Veterinary medical care, nourishing food, and housing, are amongst the services we strive to provide for the victimized canines we serve.

CRISIS INTERVENTION ASSISTANCE AND PAST EMERGENCY MISSIONS

Learn more about WFLF's crisis intervention assistance and past emergency rescue missions. Assistance and emergency aid directly benefit displaced animals and animals in life threatening danger and include the provision of food, medical care, transport, placement, primary care and animal housing.

Make a lifesaving donation in any amount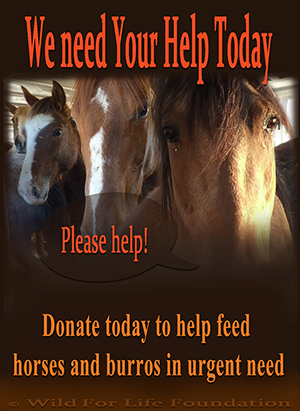 Chip in to Help Horses today!
WFLF horses and burros are roundup and slaughter survivors, rescued by WFLF from across the country, each with their own special story.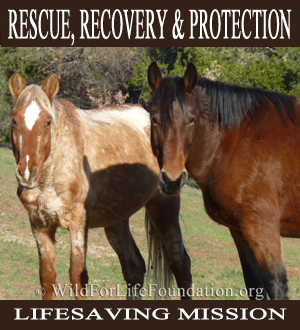 We are an all volunteer charity dedicated to saving, protecting and preserving America's wild and domestic horses and burros and we depend 100% on tax deductible donations from caring community members like you to carry out our lifesaving mission.

Please consider making a donation in any amount to help save and protect horses and burros today.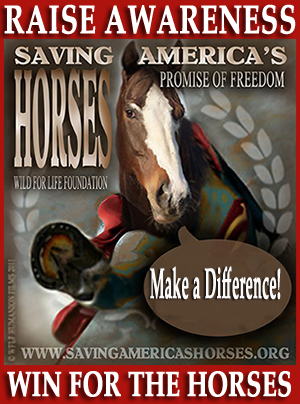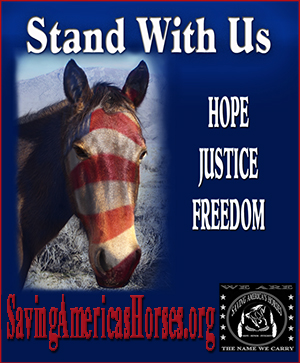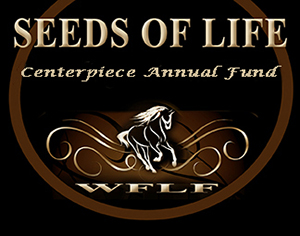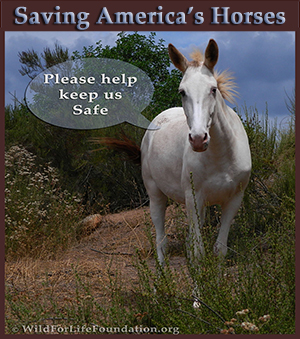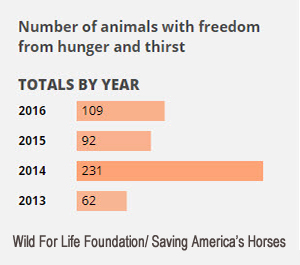 About WFLF:
Now in our 10th year, the Wild for Life Foundation has a well established track record of compliance with all relevant laws and regulations. Our Board of Directors consists of 100% volunteers who contribute their time, money and resources to benefit the Mission of the Wild for Life Foundation. WFLF policies requires compliance with best practices in standards of animal care and general equine management and guidelines of care for the safety, welfare and protection of all animals that come under the umbrella of the Wild For Life Foundation. WFLF is committed to being in compliance with all operational policies, as well as relevant State and Federal laws and regulations in order to protect its mission, its beneficiaries, it assets and to honor donor/ grantor intent.

The WFLF considers program measurement a proud companion to the transparency that earned our non-profit foundation the prestigious Platinum GuideStar Nonprofit Profile Seal of Transparency. Fully Vetted by GlobalGiving's rigorous due diligence process since 2012 , GlobalGiving has ranked Wild For Life Foundation (WFLF) at the highest level.