WILD FOR LIFE FOUNDATION
An IRS Tax Exempt Public Benefit Corporation

IMPACT AND ACCOMPLISHMENTS
The WFLF conducts undercover investigations, exposes cruelty, and holds equine abusers to account. We've saved hundreds of horses and burros from neglect and slaughter, and freed Bureau of Land Management (BLM) and Bureau of Indian Affairs (BIA) captured wild horses and burros to forever sanctuary; we've turned up the heat on the insidious trade of horse meat; and have inspired more Americans to make cruelty-free choices. We bring exposure to the corrupt distribution of misinformation provided to the public about horse slaughter and the removal of America's wild horses, and reveal how the public has been misled by special interest groups that run over the laws that are supposed to protect the horses, people and the environment.
The WFLF considers program measurement a proud companion to the transparency that continues to earn our non-profit foundation the prestigious Platinum GuideStar Nonprofit Profile Seal of Transparency year after year. Fully Vetted by GlobalGiving's rigorous due diligence process since 2012 , GlobalGiving has ranked Wild For Life Foundation (WFLF) at the highest level.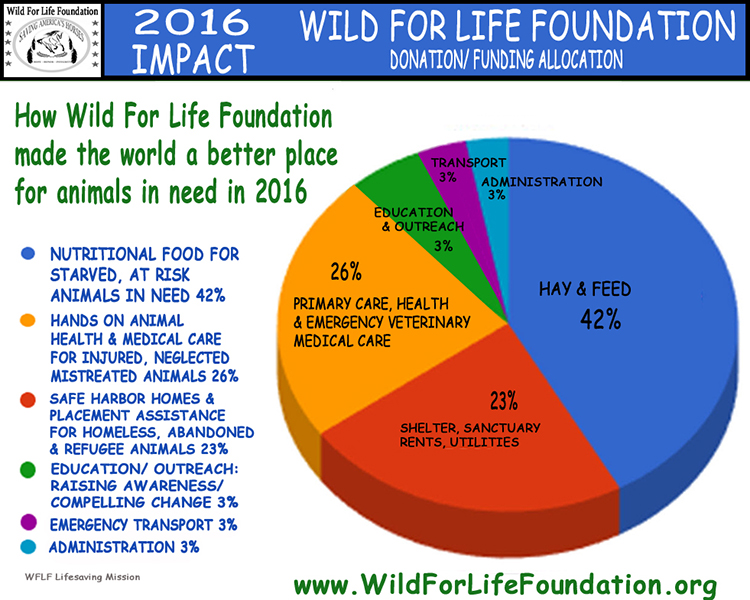 Efficiency ratios represent general contributions to WFLF in support of charitable programming. and may not include aggregate data subject to form 990 or information regarding donors and contributors not available for public inspection.
---
Below are a few highlights of some of the most significant accomplishments that WFLF achieved in 2015.
• WFLF provided for the urgent needs of numerous horses and burros found in life threatening situations, including wild horses and burros that have been brutally rounded up and removed from their homelands, slaughter bound equines, starved, injured, neglected, abused and abandoned equines. We've rescued, placed and accepted into our sanctuary approximately two hundred wild Mustangs, including orphan foals just weeks old and pregnant mares that we found in life threatening danger.

• We conducted deployments of our Emergency Equine Rescue Services in several states across the Nation, saving horses from starvation, slaughter, abuse and displacement. We set up two additional satellite wild horse recovery centers through WFLF's Lifetime Equine Refuge for the urgent intake and recovery of imperiled Mustangs that need medical care and emergency safe harbor. We've continued to conduct our Lifetime Equine Refuge Safe Haven network and satellite program in more than 10 cities across the nation.

• We've provided truck loads of nutritious hay and grains to hundreds of starved and homeless rescue horses from coast to coast through WFLF's Hay Drive.
• We provided urgently needed veterinary medical care, farrier care, transport, safe haven sanctuary facilities and quality nutritional hay and grains, for approximately one hundred and fifty slaughter-bound Mustangs that had recently lost their home in New Mexico. And, we provided for their emergency evacuation and urgently needed interstate transportation, and facilitated their relocation to new homes in Arizona, Colorado, Texas and California. In addition, we rescued approximately a fifty injured, pregnant and nursing New Mexico wild Mustangs and welcomed them into WFLF's Wild Horse Sanctuary program where they were able to heal and fully recover. We have since been able to re-home approximately thirty of these Mustangs to sanctuary in Northern California.
• Through WFLF's Operation Thoroughbred, we save at-risk Thoroughbreds. Sadly these majestic icons are ofterntimes virtually discarded by their previous owners, with nowhere to go. We've given these victims a second chance at life through WFLF's Rehabilitation and Sanctuary program.

• We provided urgently needed veterinary medical treatment and surgeries to a number of needy wild and domestic equines including the complicated removal of a large facial tumor that had sadly landed Diego, an otherwise sound and gorgeous Thoroughbred in the slaughter pipeline. We saved him from slaughter, had his tumor removed and have provided him with a forever home at WFLF's Equine Sanctuary where he will soon become part of WFLF's Healing Hearts equine assisted learning program

• Through WFLF's Saving America's Horses Outreach Program which puts important equine issues front and center; we raise social awareness to help uphold the 'defunding' of domestic horse slaughter (a temporary ban on slaughter). The U.S. Congress reinstated the 'defunding' language in the Consolidated Appropriations Act (aka the Omnibus Bill). The language effectively bans the slaughtering of horses by preventing the U.S. Department of Agriculture (USDA) from expending funds to place USDA inspectors in horse slaughter facilitates through the year 2016. Absent the necessary Federal Laws that would otherwise protect America's horses from this gruesome practice, the 'defunding' language is imperative and must be reinstated each and every year to ensure that no horse slaughter facilities can be re-opened in the United States.

• While our primary focus is on equines, we have also provided emergency rescue and placement services for a number of canines throughout the year.

• We raised awareness to keep horses safe from slaughter and roundups while also helping to save 100's of lives through WFLF's Saving America's Horses HOPE Tees for Horses Project. Our HOPE Tees for Horses campaign helped to educate people from around the world through artful fundraising t-shirts. The shirts feature the majesty and beauty of America's most historic icons together with a call-to-action for their protection from cruel roundups and unspeakable slaughter. 100% of the proceeds have directly aided victimized horses in need.
• We've secured quality care and habitats for the neediest animals that continue to arrive at WFLF's Rescue facilities and have successfully tackled the wide variety of emergency cases that come through our doors.
• We brought SAVING AMERICA'S HORSES to screen at the Equus Film Festival in NYC. Audiences came away from the film raving and crowds gathered around our Saving America's Horses (donated) Billboard Truck to learn more. Gorgeous life-size wild horses running to freedom from cruelty were brought to the streets of the big apple – educating inspiring people to get involved. We have since digitally re-mastered the film. The new version of this multi-international-award winning movie includes additional shots of wild horses, plus updated crucial facts and information on the both the wild horse and equine slaughter issues. SAVING AMERICA'S HORSES, the movie is a powerful podium with a dynamic reach to animal lovers worldwide. This intelligent exposé reveals how the public has been misled by certain government agencies and special interest groups that run over the laws that are supposed to protect the horses, people and the environment. "Saving America's Horses: A Nation Betrayed" is an educational documentary film project under WFLF's Humanion Films and continues to be a game changer in the movement to save, protect and preserve America's horses and burros.


Please subscribe for updates to learn more about our victories and accomplishments.