WILD HORSE & BURRO PROTECTIVE LEGISLATION
H.R.2032 - Corolla Wild Horses Protection Act
This bill directs the Department of the Interior to enter into an agreement within 180 days with the Corolla Wild Horse Fund, Currituck County, North Carolina, and the state of North Carolina to provide for the management of free-roaming wild horses in and around the Currituck National Wildlife Refuge.
Learn more about this pending legislation

On August 24, 2017 seven members of the House stepped up to protect America's horses, wild and domestic, introducing bipartisan amendments that would restore the prohibition on killing healthy wild horses and burros and close the door on horse slaughter for another year.
Congress will return soon after and is expected to act quickly on bills that could lead to the mass killing of wild horses and the resumption of horse slaughter.


See and Share Inspirational & Educational Videos & Alerts
Alerts & Videos
Related Equine Legislation

BACKGROUND
In May of 2017 the United States, Department of the Interior, Bureau of Land Management (BLM) released their 2018 "BUDGET JUSTIFICATIONS" with a call for approval of proposed provisions that if passed would strip protections and effectively allow the BLM to shoot and kill wild horses and burros and sell wild horses and burros for slaughter.
On July 20, 2017 – The Senate Appropriations Committee approved the Udall-Graham Amendment, introduced by Sens. Tom Udall (D-NM) and Lindsey Graham (R-SC) which includes defunding language to prohibit U.S. Department of Agriculture from hiring horse meat inspectors in the U.S. This in turn prevents horse slaughter plants from being re-opened in the U.S. in 2018. The Amendment was passed in the full committee by a bipartisan vote and will effectively continue a ban on the gruesome horse slaughter industry on U.S. soil.
Protection is however still needed for America's horses from the exportation across federal borders where they continue to face gruesome slaughter every day. The Safeguard American Food Exports (SAFE) Act was announced on Friday, Aug 4, 2017 by US Senators Bob Menendez (D-N.J.), Lindsey Graham (R-S.C.), Sheldon Whitehouse (D-R.I.), and Susan Collins (R-Maine). Its purpose is to forbid slaughter on American soil and ban any related interstate or foreign commercial activity, such as the export of horse meat or the transport of live horses to slaughterhouses in other countries. The bill must pass the house and senate before it can become a law. Learn more about anti slaughter legislation here

THE SENATE HAS YET TO VOTE on the BLM/ DOI appropriations proposal regarding the killing and sale of Mustangs and burros - which will take place toward the end of summer.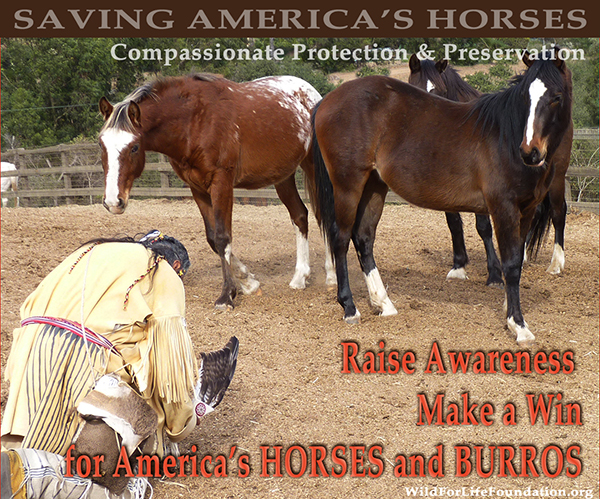 HOW TO HELP:
You can make a difference by polightly urging your Local Representatives to support legislation in support of protecting America's wild horses & burros.
You can find the direct contact information for your state representative here>> http://www.house.gov/representatives/find/