It's RADAR Love!

Welcome to Radar's webpage

Radar is a little baby boy burro whose mommy was living wild in the rural foothills of Southern California together with her family of wild burros. Urban development is now infringing on their homeland and their way of life has changed. Radar's mommy and several of her family members were recently captured by local authorities to help protect them from getting hit by cars. Wild For Life Foundation recently accepted 10 of these burros into its rescue program. Within a few months we had 16 wild burros in our program (several of the incoming jennies were pregnant when they were captured.) Radar is one of the little babies whose life was saved through our wild burro rescue and protection program.

If you would like to support Radar and this lifesaving mission, please join "Radar's Fan Club". For only $10/month, you can be part of securing the protection of at risk equines and help Radar spread the word about the plight of the wild burros and horses in America. You can make your monthly gift in honor of someone you love, a friend, a family member or even a pet.

You will receive a Radar picture magnet and a Radar's Fan Club membership card

Thank you for supporting our lifesaving mission

Wild For Life Foundation's services and objectives are made possible through donations to our lifesaving mission. For Wild For Life Foundation, the ability to respond quickly to animal emergencies and provide lifesaving feed to animals is crucial to saving more lives. Donations to our general fund allow us to allocate our resources most efficiently and where the needs are greatest.


If you do wish to restrict your gift, please contact us by email at donations@wildforlifefoundation.org to find out if there is a specific project accepting earmarked support.

Donations are tax deductible to the full extent permitted by law. Federal ID No. 26-3052458
My name is Radar
I'm a baby burro. Life is good.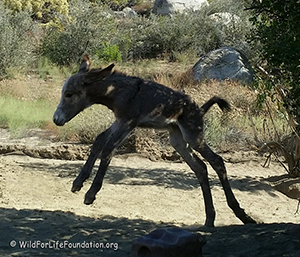 If you love Radar and would like to support him and his mission please join "Radar's Fan Club". For only $10/month, you can be part of securing the protection of at risk equines and helping Radar spread the word about the plight of the wild burros and horses in America. You will receive a Radar picture magnet and a Radar's Fan Club membership card.
Join Radar's Fan Club
Yes, I want to become a member of Radar's Fan Club TODAY. You can help give the gift of a second chance to a Donkey or a Wild Burro. We need caring compassionate people like you to help us pay for emergency medical care, surgery, rehabilitation treatments, follow-up Doctor visits, castrations for the males, good nutrition, vitamins, feed, worming, hoof care and any other specialized care needed. We are a rescue for all incoming animals and a sanctuary for those who can't be adopted or placed elsewhere because of a traumatic accident, injury, illness or other special needs situation. They come to us traumatized, shattered, desperate and betrayed. With us they find love, safety, compassion, dignity, trust, hope and a new beginning.
You can make your monthly gift in honor of someone you love, a friend, a family member or even a pet. Just enter the name of the loved one you would like to honor in the field above
Click here to like Radar's Facebook page

Make a lifesaving donation in any amount