Donor Review:

The work that Wild for Life Foundation does on the behalf of horses and humanity is beyond honorable ---it is sacred! 
My husband and I were fortunate enough to visit Wild For Life's Wild Horse Rescue and Sanctuary last and this year. We so enjoyed our personal, behind-the-scenes tour with The Founder and Executive Director of WFLF, the dedicated Katia Louise. What an incredible endeavor WFLF has undertaken as they to continue to serve their mission to help starved, injured, abused and abandoned horses. 

We witnessed firsthand and were impressed with the care, commitment and compassion with which these rescued slaughter-bound Mustangs, end-of-the line Navajo ponies and other precious domestic equines now enjoy. 
Being with these blessed horses is humbling...and being able to help them is an honor. - Jacqueline Osborn

Volunteer Review:

In November, 2016, I had the pleasure of working in the trenches with Katia Louise at the EQUUS Film Festival NYC. Prior to that, for the last several years, I've been a member of her organization – Wild For Life Foundation (WFLF). Anyone interested in equines will know her name, but for the uninformed, Katia wrote, directed, and produced the award-winning documentary: "Saving America's Horses – A Nation Betrayed". 

Katia is a woman on a mission: driven, intelligent, articulate, resourceful, focused, passionate, and gracious. She worked tirelessly around the clock, doing the work of three people, and multi-tasking with a whirlwind of energy that was both inspiring and empowering. And through it all, didn't once complain about a fractured ankle, which occurred a week before the festival! 


Wild For Life Foundation is an organization run with integrity and transparency. 

I'm proud and honored to be affiliated with Katia Louise, and will continue as a team member until America's horses (and burros) are safe, protected, and out of harm's way. - Jibiki


BOD Staff Member Review:

Katia Louise - A rare spirit driven by passion and heart . With laser focus and resolute purpose she stepped up to the plate and never looked back, exposing the plight of wild and domestic horses on their way to slaughter in the shocking expose Saving America's Horses – A Nation Betrayed. Through her efforts horses and burrors on the brink of death through slaughter, starvation or abandonment; downtrodden, sick, disabled and dejected they are brought into safe haven. Katia and the Wild for Life Foundation rescues these at risk, disabled and special needs horses and burros who rehabilitate and live out their lives in peace, health, harmony and safety. Katia is known for her lifesaving work in the non-profit community and has cooperated with numerous rescue groups nationwide. Horses have shaped mankind's history and it is our duty to preserve and protect their rights as the magnificent and sentient creatures they are. And to that Katia Louise rises to the challenge of this most sacred moral responsibility as her life's mission. With guts and grace. - JayBee

Benefactor Review:

I have known Katia Louise and the Wild For Life Foundation now for over six (6) years. As an equine advocate, contributor, fund raiser, and rescuer for years, I have learned that it is best to give to organizations that one is familiar with. The Wild For Life Foundation is one of those organizations I have total confidence in supporting. Through her Foundation, Katia's commitment to the welfare of horses and burros, wild and domestic whose lives have fallen into uncertainty, has been immeasurable. When a society faces economic and social uncertainty, the welfare of horses is the first casualty. And those organizations dedicated to their welfare face insurmountable obstacles in remaining a viable source of safety for our closest allies who have participated without fail to the human narration. Many historians have theorized that our civilizations have such strong foundations because horses were the legs upon which we built them. It is a moral responsibility for us to insure that those rescues with the kind of integrity and commitment as displayed by the Wild For Life Foundation, remain vital, intact, and able to care for every animal who enters their gates. If everyone had the compassion and tenacious will exhibited by Katia Louise and the Wild For Life Foundation, we would never have to worry with our tears about these beloved companions who have been greater than the wings of our souls; they are the very definition of our indomitable spirit as a nation and I salute Ms. Louise and her associates for their tireless efforts. - Kimme Black

Review by Former WFLF BOD:

I have known Katia Louise for many many years. Her dream was to make sure that all the horses that were being tortured would be saved , and she set out to do this ! Katia worked day and night, sometimes skipping meals , to produce and direct her film, "Saving America's Horses".
I am proud to say that I was very involved in the very beginning of this film and became assistant producer , as I believe in my heart that this is a great mission and we all must get the word out to stop this horrific slaughter of horses and burrows , which are being killed for no other reason then to produce disgusting horse meat which is being eaten in European countries as a delicacy.
Every penny that is donated to Wildlife For Life Foundation, will help reach our goal to save and rescue these majestic animals. - Nancy Stanley

Fundraising Consultant Review:

As a fundraising consultant, I can say The Wild For Life Foundation is the best-run nonprofit organization I have ever worked with. Led by Foundress and President Katia Louise, she works tirelessly to provide emergency and transitional housing as well as primary care to abused, neglected, injured and homeless horses and other animals. I strongly urge everyone to donate as much as their means allow to The Wild For Life Foundation! - Ed Stephon

Volunteer Review:

I will start with saying .....when I am on the ranch it is a very special feeling beyond words, just to know all of these magnificent animals have been rescued and have a safe and caring haven to live their lives. What more could we ask for than to see to it these horses & burros have proper nourishment and safety from harms way.
Katia the Founder of WFLF has devoted her life to this foundation and I commend her for all her work, dedication, strength and courage to accomplish this endeavor. 
When I witness the mustangs lift their heads up high and seem to prance across the field to greet the other horses... it is what dreams are made of... - Mustangs Are Free

Foster Review:

I fostered for Wild For Life Foundation , and they took great care of the horses they made sure they had plenty of hay and supplements for me to feed and excersize. When ever I had an issue with one of their horses they were there to make sure everything was ok they all got good vet care and farrier work . Katia was always concerned how they were doing in there training. Katia and her team were very professional and caring for there horses. I never had an issue with them - one of the best run rescues I have worked with. The name of my ranch I run is www.listonstables.com I have run this ranch for 24 yrs. - Venice L

Advisory Board and Former BOD Review:

I am a member in good standing of the International Saving America's Horse Coalition.
I am a former member of the BOD. My current affiliation as an Advisory Board Member for the Wild For Life Foundation (WFLF) and its Saving America's Horse Coalition is from 2009 to the present. I am a wildlife ecologist from Nevada and grew up riding and was instructed on the care of horses and horsemanship, having cared for and ridden horses since I was 8 years old. I am knowledgeable concerning major aspects of the biology, ecology, evolution and conservation of these species, especially the horse and the endangered mountain tapir.
I first met horse advocate, rescuer, and filmmaker Katia Louise in 2009, when she graciously asked me to participate in the creation of her excellent documentary film "Saving America's Horses: A Nation Betrayed." Consequently, I guided her and her husband to film the wild horses of Northern Nevada as well as did an interview for this film. Several times I have come from my home in northern Nevada to southern California to take part in major film showings, benefit events for WFLF, and to visit the various sanctuaries where WFLF's rescue need horses and burros reside.
In 2011 I attended the International Wildlife Film Festival and chaired the panel discussion on wild horses. At this festival Katia's film was shown to a large audience, won four awards and sparked much interest in helping horses, both wild and domestic. I was also a guest speaker at a WFLF's benefit event in Rancho Santa Fe, where I met with many other WFLF board members. WFLF is a dignified organization with very high standards.
I've attended meetings and events held at WFLF equine rescue facilities in Lake Matthews, Bonsall, and Temecula. During my stay I observed all the horses under the care and control of WFLF to be very well taken care of, with adequate food, water, shelter and exercise enclosures, where they were regularly released. I can attest from my own experience with Katia and her staff, to their high moral character and integrity. These are an honorable and conscientious couple who truly care about horses including wild horses, and have demonstrated this for many years, during which they have valiantly rescued and provided healthy homes for hundreds of unique and special horses.
In the many times I have been to WFLF equine facilities I have been impressed to see how well the horses' needs are attended to, including the provision of veterinarian care whenever needed.
I have witnessed and observed many of the horses I under the care of WFLF, including wild horses and can attest to the excellent and conscientious care and provision of food, water, mineral and other supplements, shelter, regular exercise, veterinarian care, etc., that Katia and other members of WFLF staff provide for these unique, intelligent and beautiful horses.
As a lifelong horseman I know firsthand that bright shiny coats indicate the good health of horses, and all the horses I've met while participating in WFLF equine activities were lively, and interacted in a spirited way when I greeted them. I've enjoyed getting to know each special and unique, individual horse, and to know they were with people who truly cared about them and their future. - Craig C. Downer

Veterinarian Review:

I have been practicing equine medicine in Southern California since 1979. I have worked with multiple aspects of equine practice, including reproduction, sports medicine, geriatric and rescue medicine and animal welfare. I currently do work for four equine rescues in this area. I have gained knowledge and appreciation for the amount of care and effort that is required for rescue and rehabilitation of all ages of equines. I have attended, as an equine veterinarian, the Wild For Life rescue, run by Katia Louise for the past year, 2016 to current 2017, and have found the operation to be committed to providing good care for all the rescued horses and donkeys. They provide a quality environment and the animals are in good weight. They provide proper food, foot care, and veterinary care when needed, and medication of horses that need it for inflammation, internal disorders etc. They have always been professional, caring, prompt paying clients. I have additionally assessed the Mustangs under their care and I have to say they do a great job, and devote lots of time to maintaining the facility and health of the animals. - Fred Zadick, DVM

Veterinarian Review:

I am a California state licensed Doctor of Veterinary Medicine (DVM) and was the
attending DVM for Wild For Life Foundation's equine rescue operation from June 2010
through July 2015. All of the horses under the care and custody of Wild for Life Foundation were always
well cared for. There were multiple times that medical emergencies came up and Wild for Life
Foundation founder and president (Katia Louise) never hesitated to arrange for proper
and timely veterinary treatment.
The animals under their care received preventative care. The preventative care included timely vaccinations, deworming and even dental work in an effort to reduce any illnesses. Each animal's diet was adjusted to fit that animal's particular needs. Overall, I personally observed all the animals under the care of Wild for Life Foundation received excellent care. - Tiffany K. Porter, DVM

Hay Vendor Review:

I am an analytical biochemist, (B.A. Chemistry, Hiram College, 1982) with 25 years of experience working in the scientific research sectors of companies engaged in pharmaceutical, biotechnology, government and academic research. Additionally, for the last 10 years, my focus has been in animal nutrition specifically, equine. During this period, I have brokered hay to stables and ranches throughout southern California and currently represent an animal feed company and own a feed store. The Wild for Life Foundation has been purchasing hay from my feed store and buy both Bermuda grass and alfalfa. While less expensive grades of hay are available; Wild for Life always orders and receives the same premium quality hay that we carry at the store ensuring that the horses in their care receive the best quality hay and optimum nutrition for their health. - Sandra J. Brunet

Make a lifesaving donation in any amount
Chip in to Help Horses today!
WFLF horses and burros are roundup and slaughter survivors, rescued by WFLF from across the country, each with their own special story.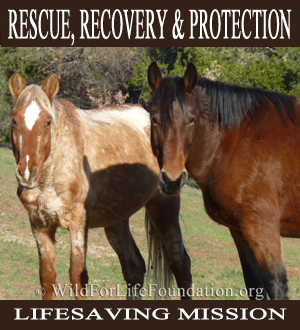 We are an all volunteer charity dedicated to saving, protecting and preserving America's wild and domestic horses and burros and we depend 100% on tax deductible donations from caring community members like you to carry out our lifesaving mission.

Please consider making a donation in any amount to help save and protect horses and burros today.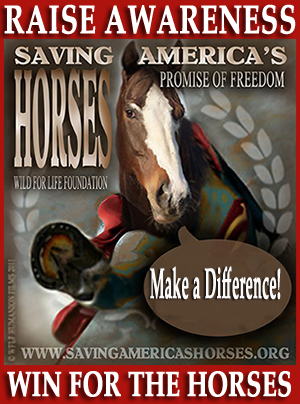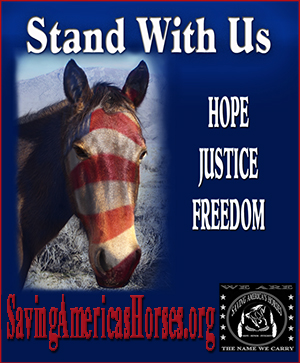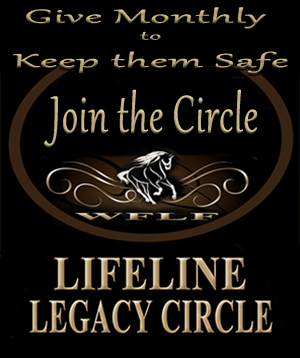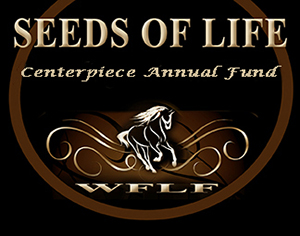 About WFLF:
Now in our 10th year, the Wild for Life Foundation has a well established track record of compliance with all relevant laws and regulations. Our Board of Directors consists of 100% volunteers who contribute their time, money and resources to benefit the Mission of the Wild for Life Foundation. WFLF policies requires compliance with best practices in standards of animal care and general equine management and guidelines of care for the safety, welfare and protection of all animals that come under the umbrella of the Wild For Life Foundation. WFLF is committed to being in compliance with all operational policies, as well as relevant State and Federal laws and regulations in order to protect its mission, its beneficiaries, it assets and to honor donor/ grantor intent.

The WFLF considers program measurement a proud companion to the transparency that earned our non-profit foundation the prestigious Platinum GuideStar Nonprofit Profile Seal of Transparency year after year. Fully Vetted by GlobalGiving's rigorous due diligence process since 2012 , GlobalGiving has ranked Wild For Life Foundation (WFLF) at the highest level.