NAVAJO HORSES RESCUE AND RECOVERY MISSION
WFLF welcomes seventeen Navajo wild horses, ages 6 months -5 years old to Bonsall, CA.
Contact us about volunteering

Make a donation for hay and veterinary care.
The Navajo Horse Rescue and Recovery Mission (NHRRM) is an onging effort to rescue and re-home wild horses, burros and orphan foals that are at risk of slaughter or that have been victimized by the Navajo roundups. The Wild for Life Foundation assures their forever safe harbor so that they will never be subject to roundup or slaughter again. The Wild for Life Foundation founded the Navajo Horse Rescue and Recovery Mission to address and provide for the urgent needs of horses and burros found in life threatening situations due to the Navajo Nation roundups. We are dedicated to saving the lives of these and other majestic and sacred wild horses and burros who have been victimized by the highly contested U.S. government funded Navajo roundups.
Volunteer rescue members from the Wild for Life Foundation's Navajo Rescue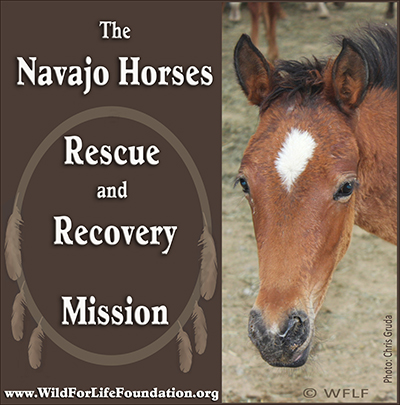 and Recovery Mission have put their lives on hold to rescue, recover, evacuate and provide care for survivors; to assure they will never be subject to roundup or slaughter again.
Just recently 21 orphaned Navajo foals were rescued through Wild for Life Foundation's Lifetime Equine Refuge under the Navajo Horses Rescue and Recovery Mission. The foals had been discovered in life threatening situations. Navajo's wild horses are being rounded up from their Native homeland on the reservation. The foals ranging in ages from 2 - 7 months were orphaned during the roundups after losing their mothers to slaughter.
"This is just the beginning for these orphaned foals," says Katia Louise. "It's going to take many months for these little ones to heal, and overcome the physical and emotional injuries they sustained during the roundups." It's anticipated that many of these orphaned foals will need to remain under special care for several months. Deprived of their Mother's milk to nourish and protect them, it will take many months to restore their delicate systems with special milk-replacer feeds and immune building supplements to help them be able to grow and thrive.
Funds are being raised to pay for needed vet medical care/transport, supplies, feed and hay.
---
Join WFLF's Safe Haven Network to become part of our rescue team:

PARTNER WITH US - SAVE LIVES
Adoption/ Foster Request Form

Join our Rescue and Recovery Team

Learn about the Navajo horses and roundups

---
About the Navajo Roundups:
The actual number of horses residing on the Navajo reservation is uncertain,as there has been no census, and reports are considerably varied. Horses are labeled as "invasive species" by the livestock industry as a means to justify their removal from the rangelands. However, in other parts of the world such as the United Kingdom, where conservation grazing is practiced, wild horse herds are being successfully restored to the woodlands and pastures to restore the lands.
More than 2,000 horses and burros have been swept away from their Native homes as a result of the recent Navajo Nation roundups and they have been reportedly shipped for slaughter.
In a recent turn of events the widely contested Navajo roundups Navajo President Ben Shelly promised to suspend the roundups under pressure from his own people including the Nahooka' Dine' (Navajo Elders and Medicine People) and the Foundation to Protect New Mexico Wildlife, an organization founded by Gov. Richardson and actor, director and conservationist Robert Redford. The foundation is working to stop the slaughter of horses, including actively fighting efforts to reopen horse slaughterhouses in the United States.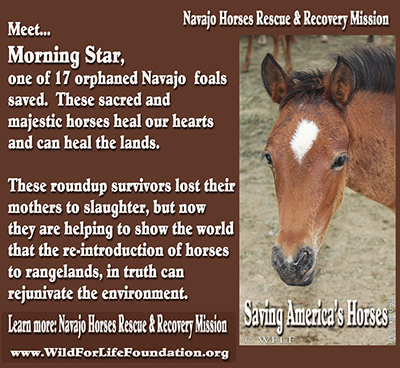 "These sacred and majestic horses heal our hearts and they can heal the lands," adds Katia Louise. "As Ambassadors for the horse nation, these 17 surviving foals through WFLF will be helping to educate and show the world that the re-introduction of horses to rangelands, in truth can rejuvenate the environment."
The Navajo Horse Rescue and Recovery Mission (NHRRM) is an onging effort to rescue and re-home these at risk foals and other horses and burros saved from the Navajo roundups and insure they will never be subject to roundup or slaughter again.
EQUINE RESCUE AND RECOVERY MISSION NEWS