NAVAJO HORSES RESCUE AND RECOVERY MISSION
MUSTANGS SAVED FROM SLAUGHTER
Roundup and Slaughter survivors - Over fifty imperiled Navajo Mustangs, ages 1 month -5 years old (including several pregnant mares) and orphan foals were all at risk of slaughter after being captured in New Mexico (NM). These wild horses were saved from slaughter, evacuated out of NM and provided safe harbor by the Wild For Life Foundation, thanks to kind and generous support from people like you. They came to us traumatized, injured, and frightened and through our rescue efforts have found peace, quality care, safety, love and security.
Rescue is just the beginning of a long, dedicated endeavor to provide the best quality of life for these captured, exploited and mistreated victims. These are the few survivors from the brutal U.S. government funded roundup and slaughter expedition held on Navajo lands. They need your continued kind and generous financial support to keep them healthy and safe. Please consider making a meaningful donation today.
---
HELP KEEP THEM SAFE FOREVER
To give your donation special meaning include the name of the Mustang you would like to help support
These are pictures taken of some of the herd members shortly after they arrived
| | | |
| --- | --- | --- |
| | | |
| | Charisa | |
| | | |
| | | |
| | | |
| | | |
| | | |
| | | |
These sacred Navajo ponies were at risk of slaughter after being captured off the reservation. They were evacuated out of New Mexico by WFLF's Navajo Horses Rescue and Recovery Mission to CA where they were received in love and compassion under WFLF's Lifetime Equine Refuge. Reportedly over 8,000 of their four-legged brothers and sisters have lost their lives during the U.S. government funded roundups which the vast majority of Navajo people oppose.
These lucky few Navajo Mustangs refugees have been welcomed into WFLF's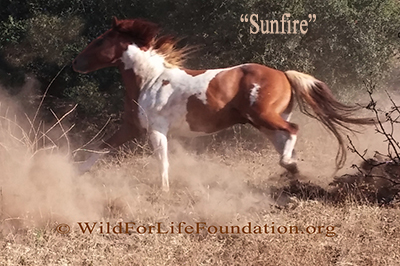 Wild Horse Safe Haven Protection Program WHSHPP for homeless and victimized horses. This would not be possible without the continued kind and generous support of compassionate people like you.
WFLF's Wild Horse Safe Haven Protection Program (WHSHPP) was founded to provide safe and healing environments for incoming imperiled horses that need special time to recover and heal from emotional trauma and physical injuries sustained prior to their rescue.  The health and overall condition of each rescued wild horse coming into WFLF's WHSHPP is closely monitored over time allowing individual horse and their family bands to heal and adjust as needed.  WFLF's WHSHPP facilities are not open to the public, however, we do provide updates on the horses in the program through our website, blogs and social media programs. We invite you to celebrate the transition of each rescued wild horse as they move into our wild horse observation and conservation programs.
WFLF is dedicated to assuring the forever safe harbor of all rescue horses under its charter, which means seeing that their housing and care is provided for the lifetime of each horse. Rescue is just the beginning of a long, dedicated endeavor to provide the best quality of life for these majestic refugees. The Wild for Life Foundation needs your support now in order to continue our direct aid to these and other wild horses in need.
Wild for Life Foundation, a volunteer based 501 c3 charity that relies 100% on donations is working around the clock to assure the forever safe harbor for these and other wild and domestic equines. Funds are currently being raised to support these efforts. Please consider making a meaningful donation today. 100% of the funds received go directly to the aid of the imperiled horses we serve. Donations are 100% tax deductible to the fullest extent permitted by law.
Business Sponsorship Opportunities are also available. Contact Corporate Giving via email at corporategiving@wildforlifefoundation.org to discuss how your company and Wild For Life Foundation can work together to meet your needs while spreading the word to help Lift Humanity through Compassion for Animals.
---
---
About the Navajo Roundups:
The actual number of horses residing on the Navajo reservation is uncertain as there has been no census and reports are considerably varied. Horses are labeled as "invasive species" by the livestock industry as a means to justify their removal from the rangelands. However, in other parts of the world such as the United Kingdom, where conservation grazing is practiced, wild horse herds are being successfully restored to the woodlands and pastures to restore the lands.
Reportedly over 8,000 horses and burros have been swept away from their Native homes as a result of these Navajo Nation roundups and they have been reportedly shipped for slaughter.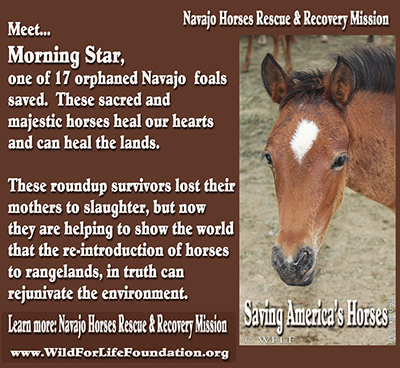 "These sacred and majestic horses heal our hearts and they can heal the lands," adds Katia Louise. "As Ambassadors for the horse nation, these 17 surviving foals through WFLF will be helping to educate and show the world that the re-introduction of horses to rangelands, in truth can rejuvenate the environment."
The Navajo Horse Rescue and Recovery Mission (NHRRM) is an effort to rescue and re-home these at risk foals and other horses and burros saved from slaughter and insure they will never be subject to roundup or slaughter again.