Chip In to help feed horses and burros saved from roundups and slaughter today!

Make a tax deductible gift in any amount today

Help throw some hay our way! Every donation counts, no matter the amount, whether it's a $5 or $100.

Please make a lifesaving donation today.

Or make a one time gift in any amount
Help feed horses and burros saved from roundups, starvation, slaughter and other forms of cruelty.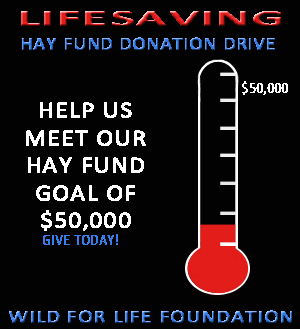 Having sufficient hay supplies on hand is crucial to protecting saving the lives of innocent rescue horses and burros

Or TEXT TO GIVE
Text GIVE 18272 to 80088
Your $10 gift will provide lifesaving hay for horses and burros in need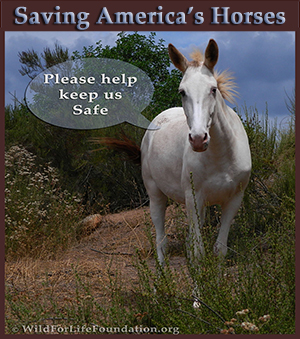 Having crucial hay supplies on hand at all times is what makes it possible to carry out our lifesaving work.
Each and every donation no matter the size, makes a difference.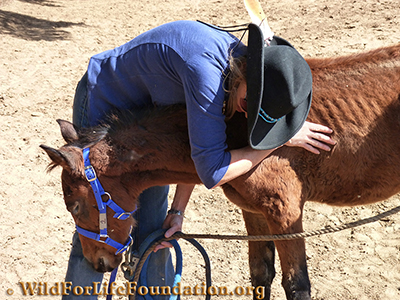 Ambassador Review:
"I have known Katia Louise and the Wild For Life Foundation now for over six (6) years. The Wild For Life Foundation is one of those organizations I have total confidence in supporting. Through her Foundation, Katia's commitment to the welfare of horses and burros, wild and domestic whose lives have fallen into uncertainty, has been immeasurable. When a society faces economic and social uncertainty, the welfare of horses is the first casualty. And those organizations dedicated to their welfare face insurmountable obstacles in remaining a viable source of safety for our closest allies who have participated without fail to the human narration. Many historians have theorized that our civilizations have such strong foundations because horses were the legs upon which we built them. It is a moral responsibility for us to insure that those rescues with the kind of integrity and commitment as displayed by the Wild For Life Foundation, remain vital, intact, and able to care for every animal who enters their gates. If everyone had the compassion and tenacious will exhibited by Katia Louise and the Wild For Life Foundation, we would never have to worry with our tears about these beloved companions who have been greater than the wings of our souls; they are the very definition of our indomitable spirit as a nation and I salute Ms. Louise and her associates for their tireless efforts." - Kimme Back
2014/ 2015 HAY DRIVE HELPS USA'S HUNGRY HOMELESS HORSES -> Horsetalk Magazine New Zealand
Generous folks have rallied to help hungry and homeless horses across the US as part of a nationwide hay drive by the Wild For Life Foundation (WFLF).

(read more)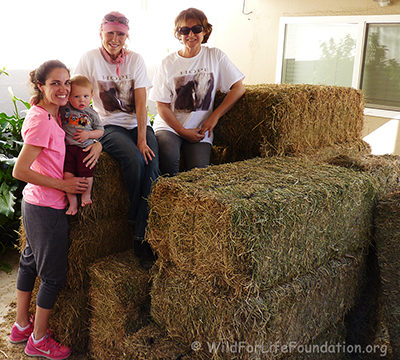 A bale of hay can make all the difference!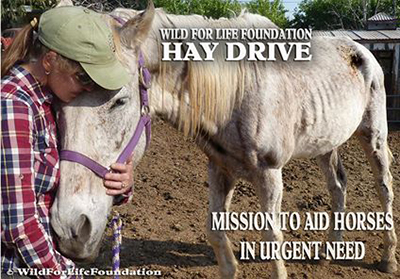 In this picture we see a WFLF rescue volunteer comforting a horse whose previous owner was unable to feed him. Thanks to the support of caring people like you, WFLF was able to rescue this horse and restore his health. Please support this cause by making a lifesaving gift today.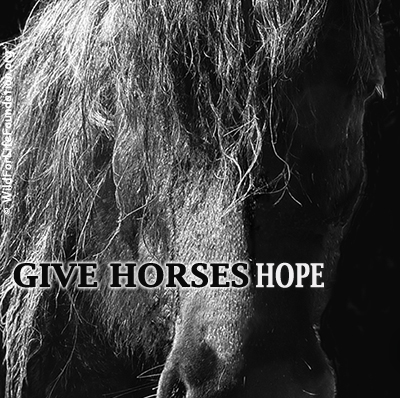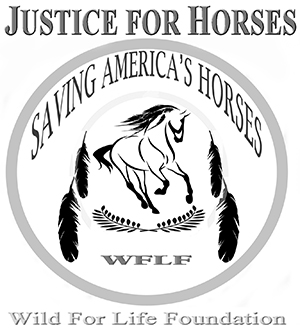 Thank you for supporting our lifesaving mission
Wild For Life Foundation's services and objectives are made possible through donations to our lifesaving mission. For Wild For Life Foundation, the ability to respond quickly to rescue need emergencies and provide lifesaving feed to animals is crucial to saving more lives. Unrestricted funds allow us to allocate our resources most efficiently and where the needs are greatest.