COLLABORATIVE MISSIONS: Wild for Life Foundation has stepped up on numerous occassions over the years to provide urgently needed lifesaving support and assistance for animals in need. We are a small grassroots charity that gives priority to saving the lives of at risk animals. Through elevating compassion and raising awareness we have been able to bridge the gap between fellow rescue groups within the movement, and combine resources to save numerous animals from across the country in their most dire time of need.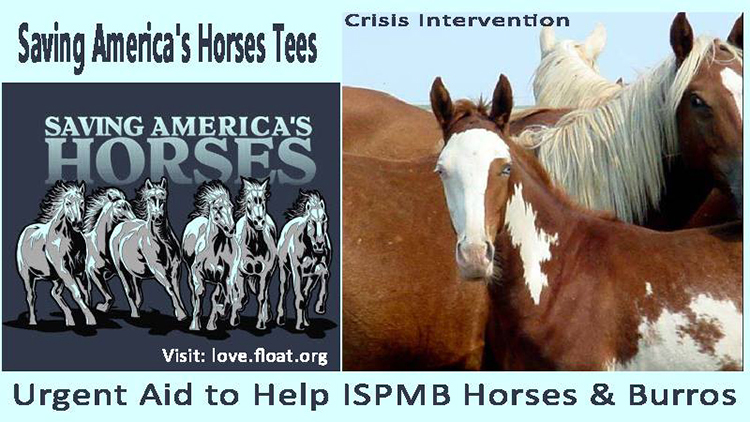 In October 2016 the Wild for Life Foundation/ Saving America's Horses teamed up with Fleet of Angels to to help make the rescue and placement of over 900 slaughter bound Mustangs, including blind wild horses, senior wild horses and numerous malnourished pregnant & nursing and mares and foals, a huge success. WFLF's Saving America's Horses program raised awareness and support for emergency ISPMB adoptions, and our multimedia and Tee shirt campaigns raised funds which purchased quality hay to feed the horses caught in the ISPMB crisis.
Over 900 ISPMB Mustangs and Burros were seized by authorities due to a court order. Emergency adoptions continue to date (Sept 2017) and have been underway across the country for nearly a year.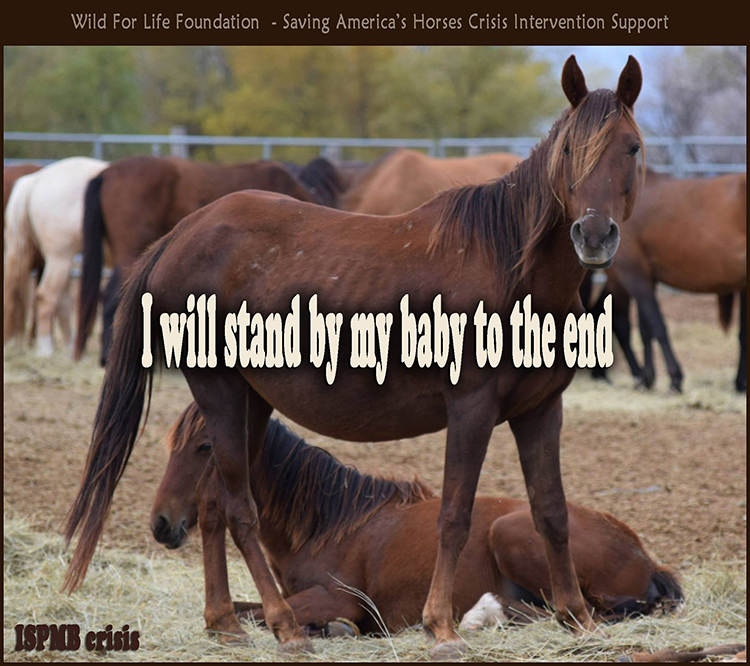 WFLF has over the years expanded its safe haven network of equine community partnerships and accredited recovery facilities to enable the intake and acceptance of animals that had no where elese to go. We are honored and proud to work side by side with some of the nations top equine rescue and sanctuary organizations who never once hesitated to join our efforts in solidarity for the lifesaving mission we all work tirelessly to carry out each and every day of the year.
Below are a few photos, honorable mentions and highlights from some of our most celebrated collaborative missions.
WE THANK YOU FOR YOUR CONTINUED SUPPORT!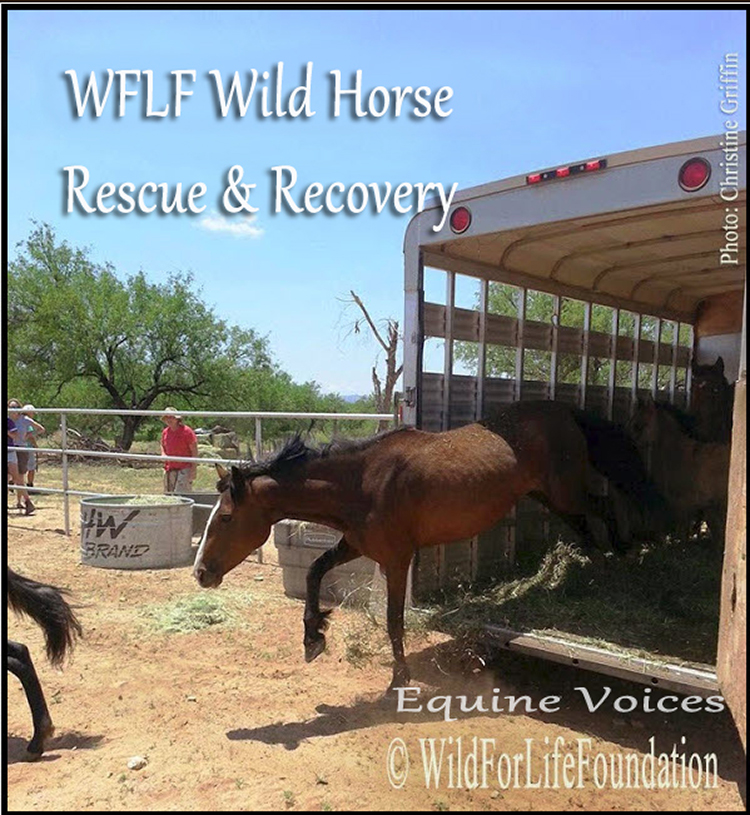 EQUINE VOICES: Equine Voices Rescue & Sanctuary joined WFLF to help make the rescue and placement of over 150 slaughter bound Mustangs, including malnourished nursing mares and foals, and numerous orphaned Navajo foal Mustangs a huge success.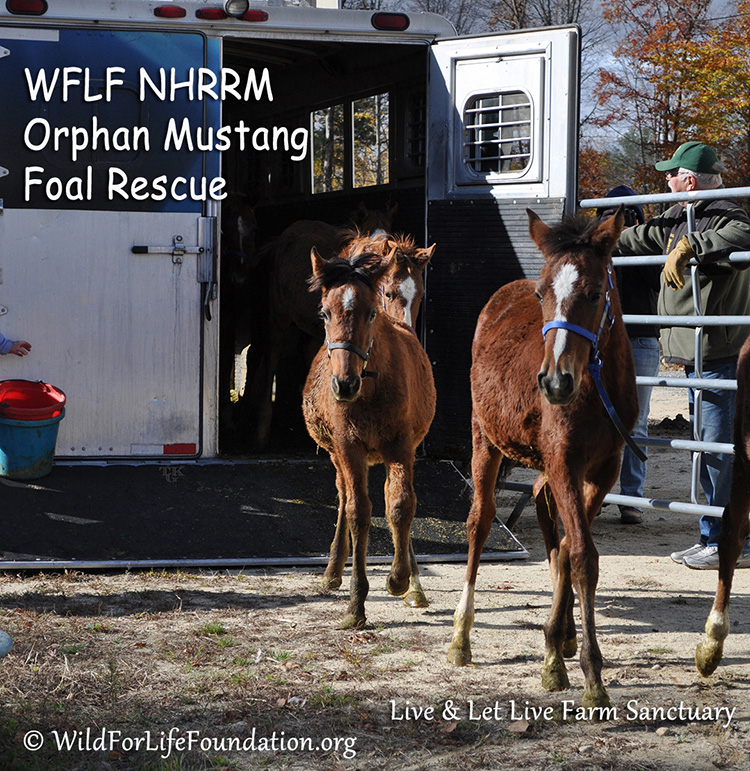 LIVE AND LET LIVE FARM SANCTUARY: Live and let Live Farm Sanctuary joined WFLF to help make the rescue and placement of over 26 orphaned Navajo foals a huge success.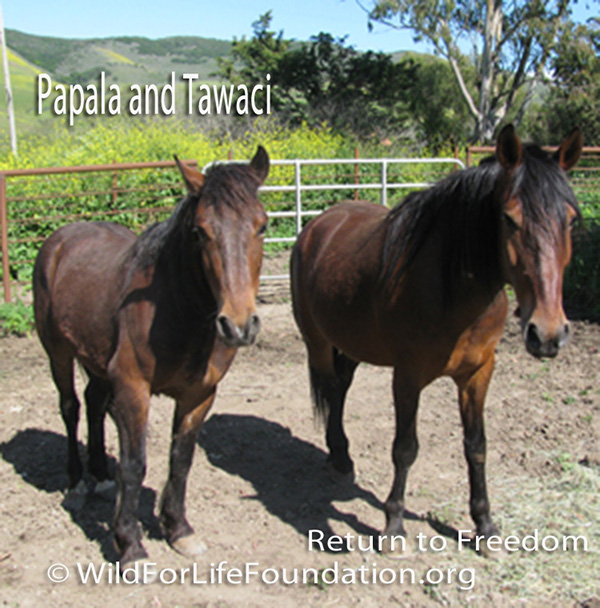 RETURN TO FREEDOM SANCTUARY: Return to Freedom joined WFLF to help make the rescue and placement of two BLM Mustang roundup and slaughter survivors a huge success.
Safe Haven Network – is a division of our foster and adoption program which enables the provision of emergency rescue services for equines in urgent need.

The WFLF Safe Haven Community Network is comprised of WFLF qualified private equine facilities, caring equestrian centers and compassionate individuals who have joined with WFLF and under its accredited Safe Haven Program in a special partnership to help save more lives.
RESCUE AND
RECOVERY PARTNERSHIP PROGRAM
WFLF's Safe Haven Rescue and Recovery Network (SHRRN) is dedicated to providing for the urgent needs of horses and burros found in life threatening situations. Qualified equine specialists and equine welfare organizations are accredited under WFLF's Safe Haven Emergency Rescue and Recovery Program. Membership in the WFLF Safe Haven Rescue and Recovery Program is limited to those whose mission(s), ethics, values and policies allign with those of WFLF and our Saving America's Horses Initiative. Partnership in WFLF's Safe Haven Rescue and Recovery Program is by invitation only.
Thank you for supporting our lifesaving mission
Wild For Life Foundation's services and objectives are made possible through donations to our lifesaving mission. For Wild For Life Foundation, the ability to respond quickly to animal emergencies and provide lifesaving care and feed to animals is crucial to saving more lives. Unrestricted funds allow us to allocate our resources most efficiently and where the needs are greatest.