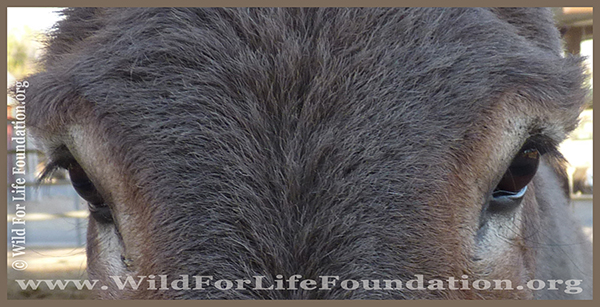 In addition to providing emergency animal rescue services including transport, veterinary medical care, housing and nutritious food to hundreds of needy equines in their most dire time of need, the Wild for Life Foundation also provides sanctuary residency to an average of 1oo animals each year, the majority of which are rescued wild equines. Prior to their placement in sanctuary at WFLF, these wild Mustangs and Burros had been subjected to a variety of violent, abusive and life threatening situations.
The majority of these wild equine refugees were victimized by government sanctioned roundups, stockpiled in holding facilties or feed lots and slated for barbaric slaughter.
Fundamental to the core of Wild For Life Foundation's wild horse and burros sanctuary mission is our commitment to assure a safe haven environment for each and every wild equine that comes through our doors. Through WFLF's Wild Horse sanctuary program victimized wild horses and burros receive the primary care they need including urgent veterinary medical care, nutritional food, farrier care and the assurance of a safe and peaceful habitats. Sanctuary residents are provided with the best possible living situations to meet their individual needs. We build and maintain enclosed multi-acre open spaces with areas where nature has provided a natural environment. Through WFLF's sanctuary program we assure they will never be at risk of round up or slaughter again.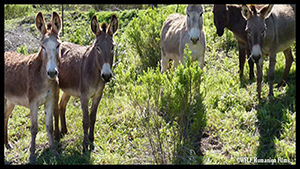 Through WFLF's Wild Horse and Burro Preservation Program we have rescued, evacuated and facilitated lifesaving services including the provision of ongoing primary care for over two hundred fifty slaughter bound Navajo Mustangs, wild Spanish Mustangs and historic American Mustangs and Burros including dozens of pregnant and nursing wild mustangs, and orphan Navajo foals who had lost their freedom, their families and Native range-land homes.
The Wild For Life Foundation promotes positive alternatives which protectandpreserve America's Wild Horses and Burros. Having developed innovative methods for sanctuary management that include equine enrichment, community involement, and sustainable ecological approaches, Wild For Life Foundation's present need is for land! With a goal of acquiring over 10,000 acres, the Wild For Life Foundation will be able to provide safe sanctuary for wild horses and burros in perpetuity.
If you would like to support the Wild For Life Foundation's Wild Mustang and Burro Sanctuary & Indigenous Heritage Project, you may do so in a variety of ways. One can become a donor or sponsor, sanctuary partner, purchase or donate acreage, volunteer your time, talents and services, participate in WFLF's multi-media educational program, or "take action" through social media by raising awareness.

---
Sanctuary Land Acquisition
Wild for Life Foundation is expanding its sanctuary programs and facilities so we can save more lives. WFLF'splan includes expansion through the acquisition of equine land. Our current need is equine sanctuary land acquisition held in perpetuity through a WFLF charitble trust, for the provision of lifelong safe harbor and preservation of rescue need animals.

There is no minimum amount for contributions made directly to the Wild for Life Foundation to help support this lifesaving program
Make a lifesaving donation in any amount