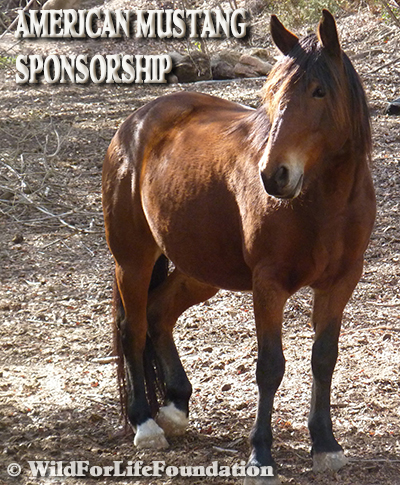 WFLF horse sponsorships help provide rescued Mustangs with nutritious food and an enriching, spacious habitat. Just what they need!
Help feed one unsponsored horse for one month - $50
Help care for an unsponsored horse for 3 months - $150


Help sponsor a horse for one year - $500
You can also sponsor an American Mustang in your name or your company name.
American Mustang Sponsorships are a wonderful way to help Mustangs in need, engage with the horse loving community and demonstrate your dedication to end the eradication of America's wild horses in a major way.

Your monthly donation assures quality care and and housing for homeless victimized horses recently rescued and now cared for through WFLF's wild horse program.

American Mustang sponsors are crucial to helping Wild For Life Foundation in our efforts to Lift Humanity through Compassion for Animals. We could not accomplish this vital lifesaving work without your support.

Wild For Life Foundation is a 501 c3 nonprofit grassroots charity dedicated to helping horses in need. Donations made payable to the Wild For Life Foundation are tax deductible to the full extent permitted by law. Federal ID No: 26-3052458
Thank you!