A message from our founder ~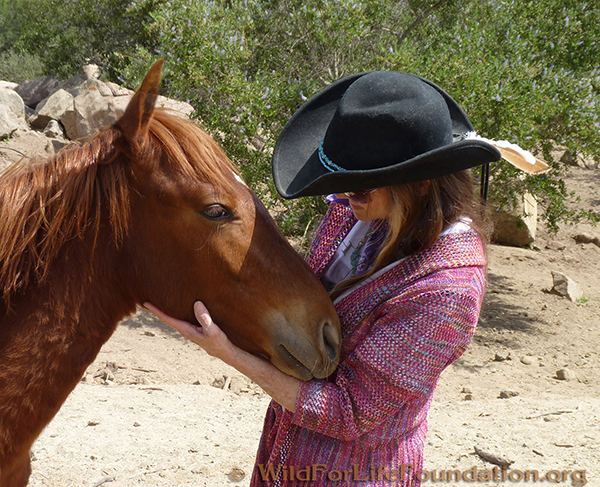 " With human encroachment on natural habitats a constant feature of our modern world, Wild For Life Foundation has oftentimes been the first and the only place where injured, orphaned and homeless equines could find refuge. Wild For Life Foundation provides rescue, rehabilitation, adoption and sanctuary services for at risk wild and domestic equines in need. At Wild For Life Foundation these vulnerable victims receive the urgent and ongoing care they need as based WFLF's standards of equine care and nationally recognized best practices and protocols for equine rescue, sanctuary and rehabilitation. Wild For Life Foundation delivers an important public service by providing a place where orphaned, distressed, injured, or displaced horses and burros get a second chance at life and are able to thrive and live out their lives in peace and safety.
The vast challenges facing America's animals, wildlife and their natural habitats are immense. Through your generous contribution of time, resources and talent toward WFLF's continuing lifesaving mission and WFLF's acquisition of land to serve its mission, you will be taking an active role in assuring preservation and the permanent care and safety of these precious resources for generations to come. The Wild For Life Foundation needs and respectfully seeks your support. We can't do this work without you. You make our healing and lifesaving work possible."
- Katia Louise, Founder, President, Volunteer Executive Director
---
ABOUT OUR FOUNDER, PRESIDENT, VOLUNTEER EXECUTIVE DIRECTOR
Katia Louise
Wild For Life Foundation (WFLF) began through the vision and hard work of its founder, Katia Louise. WFLF is the outcome of Katia's passionate altruism and pursuit of her lifelong compassionate commitment to help animals in need.

In 2008 Katia first seeded the founding of the Wild for Life Foundation. She is a highly regarded champion for the health and welfare of animals, an inspirational speaker on the topic of animal welfare and equine issue, and she is also the international award winning director and producer of SAVING AMERICA'S HORSES A NATION BETRAYED. As a documentarian and academic researcher, Katia has authored many published investigative studies, reports and papers on equine welfare issues. Katia oftentimes works behind the scenes in effort to bring justice and exposure to the issues of animal cruelty, with a focus in the U.S. and in California's as related to equine cruelty, neglect, and the illegal underground slaughter pipeline. Through the investigation of these issues she's encountered a number of helpless horses trapped in the seedy underground pipeline and on the verge of shipping to slaughter. It was Katia who stepped up and said, "Not on my watch!" and she saved them. And that's how WFLF's equine rescue program was born. Many of the costs for the animals rescued over the years of WFLF's equine rescue program have been footed by Ms. Louise and her husband. As news spread, donations and grants supporting WFLF's rescue and sanctuary program have grown over the years, enabling WFLF to increase the number of lives saved from a handful each year to hundreds.
Katia Louise, aka 'Red Horse Spirit Hawk' of the Elk clan, is a proud descendent of the Oglala Lakota Sioux.