The

Village

at

S

aving

A

merica's

H

orses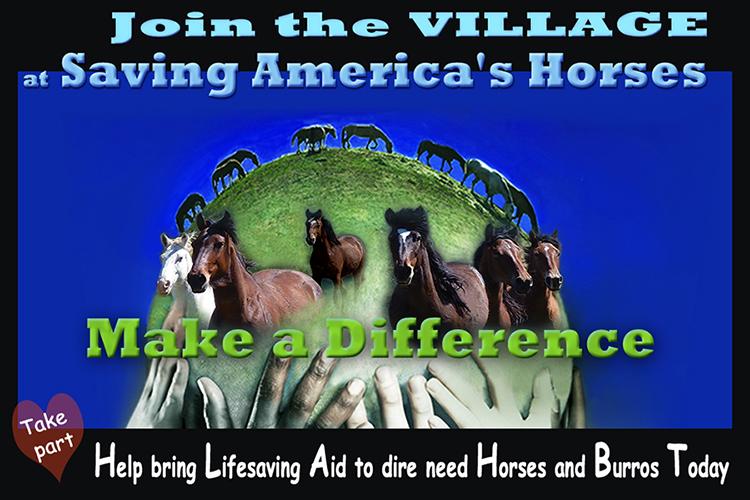 Helping to save America's horses and keep them safe just got easier! Now you can 'Join the Village of Saving America's Horses', and be part of the lifesaving team that makes a difference in the lives of countless starved, abused, distressed and homeless horses.
Your caring voice make a difference when you share a link to our website with your friends. And, thanks to people like YOU - our village of compassionate supporters, the Wild For Life Foundation will continue to save, serve and protect 100's more dire need horses and burros in the coming years. Horses that without your continued support, have nowhere else to go.
When you Join the Village at Saving America's Horses as a dedicated $5 a month Club Member, you'll be helping to save lives and you will also be helping to protect them and assure their well being and safe harbor.
Please help by telling your friends and family about this important mission! We are looking to rally at least 3,000 supporters who will become $5 a month Club Members. Your monthly gift of just $5 will help to cover the most urgent and essential rescue and sanctuary costs. This is life support and these vital funds are urgently needed to feed and care for dire need horses and burros rescued from life threatening situations.
---
The number of animals coming into the Wild For Life Foundation Equine Rescue and Protection program has grown exponentially since we first began in 2008, from rescuing and caring for just a few animals annually, up to an average of hundred a year. Many of the incoming rescue horses, once recovered and or rehabilitated, are re-homed into loving adoptive homes. And, for those who are unadoptable, these majestic icons live in peace and health under WFLF's Sanctuary program.
And for all of these deserving animals, their happy ending began the day they became WFLF rescues. But we couldn't do this lifesaving work without the support of our compassionate donors!
The Village at Saving America's Horses is a mission under the Wild For Life Foundation (WFLF), a 501(c)(3) nonprofit charity which provides urgent care, rehabilitation, safe housing and sanctuary to animals who have been victims of the cruel horse slaughter trade, abuse, starvation or brutal government roundups. America's imperiled horses need this help now more than ever.
Please help make a difference in the life of a homeless horse or burro in need today. Join the Saving America's Horses Village and help save, protect and inspire. Together, we are their voice, and they need to be heard.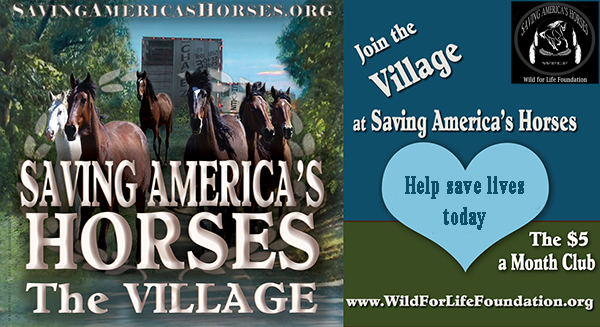 Or make a one time lifesaving gift in any amount