WFLF's Saving America's Horses Initiative is an international consortium of veterinarians, equestrian professionals, equine welfare experts, researchers, horse advocates, scientists, film and television artists, and concerned citizens working in concert to promote wild horse preservation initiatives with a focus on the prevention of equine cruelty and ending the slaughter of America's horses. The Initiative supports comprehensive and science based solution oriented models that lead to systemic change, reduce suffering, and cultivate a more compassionate society. SAHI's wild horse preservation component serves as an educational platform for the protection of wildlife. Through long term sanctuary preserves wild horses and burros removed from America's rangelands can be returned to freedom through release back into Natural habitats.
The Saving America's Horses Initiative through its infrastructure and educational multimedia resources provides a powerful and lasting impact on society toward breaking the cycle of animal cruelty for America's horses by cultivating action and inspiring social change.
WFLF's Saving America's Horses Initiative and its 'Give Horses Hope' campaign is dedicated to wild horse preservation and the prevention of equine cruelty through elevating lifesaving stewardship and the healing hearts of horses. The program strives to inspire the public to take a more active role in protecting and caring for wild and domestic horses. Through humane education, the program delivers a broad and balanced reflection of compelling prevention, conservation and preservation ethics—ways that illuminate how letting go of the old can lead to paths of healing and harmonious coexistence.
TAKE PART! Wild for Life Foundation welcomes caring and compassionate members of the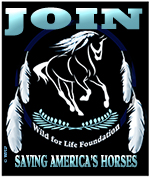 equine community/ industry to join and take part in the Saving America's Horses Initiative as we strive to nurture, preserve and promote a compassionate human-equine bond through natural partnerships between people and horses. From equine rescue, sanctuary and wild horse preservation, to equestrian groups, to therapeutic activities, equine assisted behavioral health services, the arts and sciences and a variety of equine learning programs, the opportunities are endless for individuals, students, organizations and philanthropic business programs to engage in community service projects that respect humane values and elevate conscience, inspire compassion, promote the natural healing power of horses and reduce the suffering of at risk equines.

The SAVING AMERICA'S HORSES INITIATIVE is a project under Wild for Life Foundation (WFLF).
"SAVING AMERICA'S HORSES – A Nation Betrayed" is a must see film for anyone who cares about a horse.
I have been involved with horses and also in the thoroughbred racing industry nearly all my life. I have likewise been involved with several organizations that provide homes for thoroughbreds after the end of their racing careers. Yet this film was a sobering wake up call to the need for all horsemen and horsewomen to do more to ensure that our beloved horses are protected.
I now understand the economic and political landscape that has prevented a Federal Anti-slaughter bills from being passed through the legislature. We can "take care of our own" without any need at all for slaughter in the United States or elsewhere.

- Bing Bush Jr., Equine Attorney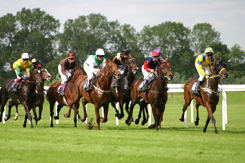 The Saving America's Horses Initiative supports the auditable aftercare program for rehabilitation, retraining and adoption for horses whose work, competitive, or performance careers have ended. We encourage all equine industry members to assist in generating funds supporting the transition of horses into healthy second careers, safe retirement, or sanctuary placement. To ensure the safety and welfare for America's horses we extend our most sincere invitation you to resolve to a vigorous showing of support for the prevention of equine slaughter.
Take part

The SAVING AMERICA'S HORSES INITIATIVE is a project under Wild for Life Foundation (WFLF).