Give Back to Wild Horses Today!
WFLF Symbolic Adoptions help provide your horse or burrow with nutritious food and an enriching, spacious habitat. Just what they need... besides YOU, of course!
Adopting a WFLF animal helps us provide nutritious food, veterinary care and an enriching habitat for your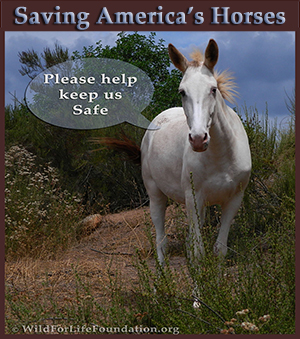 animal - and you'll have the satisfaction that comes from knowing that you're making a difference in the life of a WFLF animal.

BECOME A WILD HORSE'S MOM, or DAD, or Auntie or Uncle. Make a WFLF horse or burro part of your family today.
Click to 'adopt' and make a difference today!
WFLF's Symbolic Adoption Program is founded on the principals of our Forever Safe Harbor Mission which assures forever safe refuge for each and every horse and burro under the Wild For Life Foundation. Compassionate animal loving people like you play a vital role in providing the assurance of an enriching habitat and quality care for each rescued wild horse and burro under WFLF's Program.
* This is a symbolic adoption only. The actual animal will not be transferred!
American Mustang Introductory Gift Sponsorships

(starting at $50)
Send love to someone special in your life with a Gift Sponsorship featuring an American Mustang.
American Mustang Full Sponsorship Program

(starting at $100)
Sponsor an American Mustang in your name or your company name
Wild For Life Foundation is a 501 c3 nonprofit grassroots charity dedicated to helping horses in need. Donations made payable to the Wild For Life Foundation are tax deductible to the full extent permitted by law. Federal ID No: 26-3052458
Thank you!