WILD MUSTANG RESCUE MISSION - A Lifsaving Mission
By the Wild For Life Foundation (WFLF)
In early in 2014, under WFLF's WILD MUSTANG RESCUE MISSION, a special grassroots rescue and recovery project was launched to rescue and save the lives of approximately one hundred and fifty wild horses that had unfortunately lost their pasture lease and sadly the entire herd of imperiled Mustangs found themselves stranded in deserted feed lots without access to water or hay. Their owner was reportedly without the resources to house, feed and care for them and these Mustangs were on the verge of losing lives to unspeakable slaughter.
As a matter of transparency and compliance with Attorney General guidelines and charity policies and best practices, this web page serves to provide WFLF constituents and the general public with the true and accurate facts of this specific wild Mustang rescue mission which was called the WFLF Monero-Mustang Rescue Mission (WFLF MMRM). NOTE: This rescue mission ENDED IN JUNE OF 2015, at which time WFLF closed its solicitations for donations supporting this mission.
In the end, WFLF paid over $180,000 in expenses to care, feed, vet, transport and house the horses served through this mission.

In early 2014 the Wild for Life Foundation (WFLF) received a desperate plea of "life and death urgency" from the founder of a 3rd party rescue organization called "Monero Mustangs" (MM) for emergency rescue assistance. It was reported by MM that their entire herd of Mustangs were stranded in a deserted feedlot where there was no running water and no access to hay and based on the same Wild For Life Foundation set out to save these animals.
The WFLF MMRM was launched by the Wild
For Life Foundation as crisis intervention to save these innocent animals' lives and a means for providing emergency aid and helping to facilitate the urgent need for their relocation and placement into new forever homes.
WFLF provided emergency financial aid directly toward the care, feeding, transport and placement of these imperiled Mustangs.WFLF additionally facilitated the placement of the majority of these animals into new 3rd third party homes.
Approximately 100 imperiled Mustangs were successfully placed into to new homes in several other states, but there were no other takers for the last of the herd – including little Cinco (left), his mother and several other mares and new born foals. These were the most severely emaciated victims, the injured, the most wild, untouchable and the least adoptable Mustangs. A written surrender and urgent plea by the previous owner to the Wild For Life Foundation illustrates documented evidence of the legal conveyance via surrender of horses by MM and WFLF's acceptance of approximately 48 horses, plus three pregnant mares.

Photo credit and copyrights: Wild For Life Foundation, ALL RIGHTS RESERVED
In June of 2015 WFLF transferred approximately thirty three of these Mustangs for residency placement into a 3rd party sanctuary in Northern California. This event officially signified the conclusion this rescue mission.

WFLF continued to provide ongoing care and legal custody for the last 15 survivors for another 1.5 years following the completion of this mission and these Mustangs thrived under WFLF's program.
Lifesaving rescue and sanctuary services delivered through this mission include WFLF's payment for and provision of veterinary care, medical supplies, hoof care, dental care, emergency equine transport, general transport, food, shelter/ housing, and utilities which directly served the needs of these rescued equines over a total period of approximately 2.5 years.

---
The below LIST OF NEWS & ARTICLES PUBLISHED THROUGH THE COURSE OF THIS MISSION serves to provide project transparency as to how this rescue mission unfolded and developed through and until its completion.
July 20, 2016, Wild For Life Foundation Successfully Saved the lives of approx 150 former Monero mustang victims from gruesome slaughter
July 27, 2015, Mission accomplished with integrity and honor; WFLF's Wild Horse Rescue and Recovery Program – A Historic Living Legacy
November 19, 2014, TRUE COWBOY MAGAZINE, The full story about the Wild for Life Foundation and The Monero Mustangs
November 3, 2014, Success! The last of imperiled Monero Mustangs safely arrive to California!
October 8, 2014, GREEN VALLEY NEWS, Rescue Group Helps Save Horses
September 15, 2014, A New Beginning for some of America's most Historic Imperiled Wild Horses
September 12, 2014, Wild For Life Foundation welcomes 10 rare and historic Spanish Mustangs to its Southern California Safe Haven Sanctuary facility.
August 18, 2014, Wild For Life Foundation welcomes 15 Spanish Mustangs to its Southern California Safe Haven Sanctuary facility.
July 29, 2014, Wild For Life Foundation welcomes 7 Spanish Mustang mares and their foals to its Safe Haven program at Equine Voice, AZ.


See more pictures of Mustangs whose lives were saved by the Wild For Life Foundation through this rescue mission

---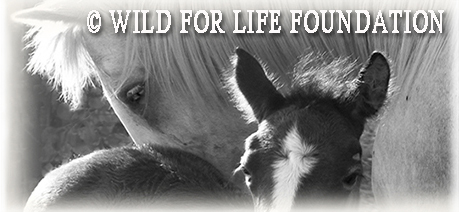 Note: Photographs watermarked with the WILD FOR LIFE FOUNDATION name are federally protected under copyright law. ALL RIGHTS RESERVED

Any and all unauthorized or malicious use of © WFLF images is strictly prohibited.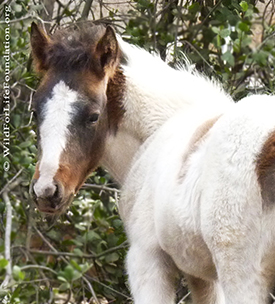 (Above: a young colt we named Prince. He was the first born colt at our sanctuary from this rescue mission- his mother was pregnant at the time of her rescue and she gave birth to him within weeks of her arrival to our facilities. She would have likely miscarried while in route to Mexico for slaughter, but through this rescue mission we were able to save them both)
Prince Photo credit and copyrights: Wild For Life Foundation, ALL RIGHTS RESERVED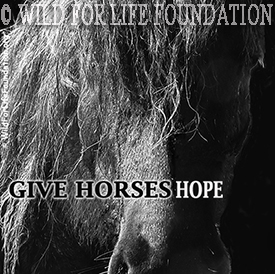 (Above: a Mustang stallion named Katzman. Katzman was one of the 150+ wild Mustangs we saved through this mission. We provided emergency evacuation for Katzman. We additionally provided for his veterinary medical expenses, his farrier care, his feed, supplements and his housing expenses.)
Katzman Photo credit and copyrights: Wild For Life Foundation, ALL RIGHTS RESERVED
(Above, Lenuba and Mariposa. A mother/ daughter pair - they were among the first fifteen wild Mustang mares from this rescue mission, whom WFLF accepted into its CA rescue and protection program. This picture was taken by WFLF at one of WFLF's sanctuary facilties where these Mustang's every need was provided for by the Wild For Life Foundation.)
Lenuba and Mariposa Photo credit and copyrights: Wild For Life Foundation, ALL RIGHTS RESERVED
Above: Sandi Claypool and Katia Louise at WFLF's Mustang Rescue and Recovery Center, Temecula, California, Nov 1, 2014.
In a public statement their previous owner, said, "We hit rock bottom and there was no hope in site. If it wasn't for Katia and the Wild for Life Foundation, our entire herd would have been brutally butchered alive for their meat."
Click to read Ms Claypool's letter of gratitude to WFLF for saving these horses' lives

---
ABOUT IMAGES OF EQUINES
WFLF owns the copyrights and all use rights for all images captured of WFLF equines while located at WFLF facilities, and or of equines served by WFLF during the process of a WFLF rescue mission. The images of equines depicted in photographs on this webpage are of horses whom WFLF aided, saved, rescued, cared and or provided for and or legally owned at the time in which the photographs were taken. WFLF is additionally greatful to independent photographers who have granted permission for the use of images for the purpose of documenting and supporting our lifesaving missions.
The images displayed by WFLF of these and other equines served by WFLF are a testament to the profound success of WFLF's lifesaving mission. Documentation and recognition of the equines served through WFLF's work is essential to carrying out our mission, to meeting transparency guidelines, and to the showing of good faith in best practices toward meeting donor/ grantor intent as set forth by the governing regulations
NOTICE: The Wild For Life Foundation has issued a warning for persons who repeat, publish or disseminate false, malicious and defamatory allegations which may be particularly liable for legal consequences for slander and libel. It is important to note that even partial truths and inferences are basis for defamation or libel actions.