WILD MUSTANG RESCUE MISSION - A Lifsaving Mission
By the Wild For Life Foundation
The WFLF WILD MUSTANG RESCUE MISSION was established by the Wild for Life Foundation (WFLF) early in 2014, as a grassroots rescue and recovery mission to rescue and save the lives of approximately one hundred and fifty wild horses that had unfortunately lost their pasture lease and sadly the entire herd of imperiled Mustangs found themselves stranded in deserted feed lots without access to water or hay. Without the resources to house, feed and care for them, they were on the verge of losing lives to unspeakable slaughter.
History of WFLF Monero-Mustang Rescue Mission:
In early 2014 the Wild for Life Foundation (WFLF) received a desperate plea of "life and death urgency" from the founder of "Monero" Mustangs for emergency rescue assistance. Sadly the entire herd of Mustangs found themselves stranded in a deserted feedlot where there was no running water and no access to hay. After confirming reports that badly emaciated and injured Mustangs were trapped in a feedlot, about to be shipped for slaughter and without access to water or hay the Wild For Life Foundation rescued these animals.
The WFLF Monero-Mustang Rescue Mission (WFLF MMRM) was launched by the Wild
For Life Foundation as crisis intervention to save these innocent animals' lives and a means for providing emergency aid and helping to facilitate the urgent need for their relocation and placement into new forever homes.
WFLF provided emergency financial aid directly toward the care, feeding, transport and placement of these imperiled Mustangs.WFLF additionally facilitated the placement of the majority of these animals into new 3rd third party homes.
Approximately 100 imperiled Mustangs were successfully placed into to new homes in several other states, but there were no other takers for the last of the herd – including poor little Cinco, his mother and several other mares and new born foals. These were the most serverely emaciated victims, the injued, the most wild, untouchable and the least adoptable Mustangs. A written surrender and urgent plea by the previous owner to the Wild For Life Foundation documents the legal conveyance by Monero and WFLF's acceptance of approximately 48 horses, plus three pregnant mares.
WFLF has covered all the expenses for these 51 dire need horses and including the three new foals who were born under late that summer under WFLF.

In June of 2015 WFLF transferred approximately thirty three of these Mustangs for residency placement into a 3rd party sanctuary in Northern California. This event officially concluded this rescue mission.

WFLF continued to provide ongoing care and custody for the last 15 survivors whom have at all times remained under the legal ownership and title of WFLF since first accepted by WFLF, and these Mustangs have thrived under WFLF's program – with thanks to your caring and compassionate support.
The Wild For Life Foundation steps up in troubled times on behalf of the equine community with compassion, benevolence and good will through all its animal rescue missions. As a leader in the equine welfare and nonprofit animal rescue industry for nearly 10 years, we pride ourselves on our reputation and long-standing relationships with fellow equine professionals, rescue groups and supporters.
Wild For Life Foundation, a nonprofit, animal protection and rescue organization with a powerful educational platform, successful rescue missions, outreach programs and initiatives have saved and protected hundreds of at risk American horses and burros from starvation, abuse, neglect, abandonment, roundups and slaughter, including Saving America's Horses: A Nation Betrayed, the renowned Navajo Horses Rescue and Recovery Mission, Hope for Horses, Tees for Horses, WFLF's Mustang Rescue Missions, and the international Saving America's Horses Coalition.
WFLF has a proud history of solid governance, best practices and compassion, and our organization will do everything in our power to ensure that America's horses and burros are safe, secure and supported. It takes honesty, integrity, devotion and many years of sacrifice, tireless work, responsible program management to build public support for lifesaving animal rescue and sanctuary programs - that's how we eventually were able to carry out this and other equine rescue missions of this magnitude.
We can only imagine how someone might feel when faced with the reality of nearly losing all their horses to slaughter. Certain persons have attempted to erase and rewrite the true facts and history associated with this nationally recognized WFLF wild horse rescue and sanctuary project and what they are doing is contrary to the safety, wellbeing and future of the very animals that WFLF serves to protect. We are fighting to end these and other malicious acts of harm against innocent animals, and our mission to save and protect them.

---
PUBLISHED NEWS & ARTICLES
July 20, 2016, Wild For Life Foundation Successfully Saved the lives of approx 150 former Monero mustang victims from gruesome slaughter
July 27, 2015, Mission accomplished with integrity and honor; WFLF's Wild Horse Rescue and Recovery Program – A Historic Living Legacy
November 19, 2014, TRUE COWBOY MAGAZINE, The full story about the Wild for Life Foundation and The Monero Mustangs
November 3, 2014, Success! The last of imperiled Monero Mustangs safely arrive to California!
October 8, 2014, GREEN VALLEY NEWS, Rescue Group Helps Save Horses
September 15, 2014, A New Beginning for some of America's Historic Imperiled Wild Horses
September 12, 2014, Wild For Life Foundation welcomes hsitoric Mustangs to its Southern California Safe Haven Sanctuary facility.
August 18, 2014, Wild For Life Foundation welcomes 15 Mustangs to its Southern California Safe Haven Sanctuary facility.
July 29, 2014, Wild For Life Foundation welcomes 7 Mustang mares and their foals (14) more horses to its Safe Haven program through Equine Voice, AZ.
---
The Wild For Life Foundation relies on continued support for its wild horse rescue and sanctuary programs. We can't do this work without you. You make our healing and lifesaving work possible. WFLF relies 100% on tax deductable donations to pay for these costs.
Make a donation in any amount to support the Wild For Life Foundation

See more pictures of Mustangs whose lives were saved by the Wild For Life Foundation through this rescue mission

---
ABOUT IMAGES OF EQUINES
The images of equines depicted in promotional efforts to support WFLF lifesaving missions are of horses whom WFLF aided, saved, rescued, cared and or provided for and or legally owned at the time in which the photographs were taken. WFLF owns the copyrights and all use rights for all images captured of WFLF equines while located at WFLF facilities, and or of equines served by WFLF during the process of a WFLF rescue mission. WFLF is additionally greatful to supporting independent photographers who have granted permission for the use of images taken preior to a WFLF Rescue efforts for the purpose of documenting and supporting our lifesaving missions.
The images displayed by WFLF of these and other equines are a testament to the profound success of WFLF's monumental rescue missions which are supported by the ASPCA, Best Friends Animal Society and countless other caring and compassionate humanitarians. Documentation and promotion of equines served through WFLF's lifesaving work is essential to carrying out our mission to save, protect and preserve wild and domestic equines in need.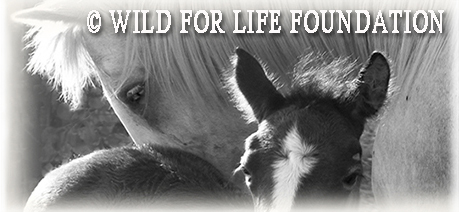 Note: Photographs watermarked with the WILD FOR LIFE FOUNDATION name are federally protected under copyright law. ALL RIGHTS RESERVED