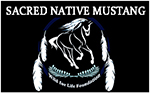 The Wild for Life Foundation provides a safe, loving and peaceful sanctuary for Native horses and burros in need. Services include transport, veterinary medical care, nutritious food, safe harbor housing, placement assistance and long term sanctuary. Incoming native equine refugees include those who've been victimized by roundups, removed from their home lands, stockpiled inholding or slated for gruesome death through extermination or barbaric slaughter. We welcome these sacred relatives into our family circle of life where they are able to recover and heal.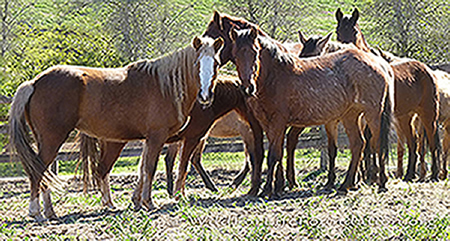 WFLF strives to provide open space habitats for incoming native wild horse and burro refugees through conservation of precious resources which are maximized to allow quality equine enclosures at WFLF facilities. Undeveloped open spaces are sought and utilized to enable enhancement and expansion of WFLF's sanctuary program for the purpose of saving, protecting and preserving these victimized equine refugees. Through ongoing contributions to WFLF, these precious resources enable WFLF to serve these animals and expand its programs and in turn save more lives. WFLF has indeed provided numerous native refugee wild horses and burros with lifesaving rescue, as well as sanctuary placement in open spaces and multiple acre habitats through WFLF's sanctuary program.
There is no minimum amount for contributions made directly to the Wild for Life Foundation to help support this lifesaving program
Make a lifesaving donation in any amount
Sacred Hearts Circle
If you have land and would like to help, check out our Safe Haven Private Sanctuary Program

| | |
| --- | --- |
| Native Wild Mustang Sanctuary Placement | |
Learn more about becoming a Sanctuary Partner
---
The below clip features Chief Arvol Looking Horse, of the Lakota, Dakota, and Nakota Nations, as he speaks out in prayer for the protection of America's horses and burros. Courtesy: Saving America's Horses: A Nation Betrayed.
In the absence of federal protection, over 100,000 American horses are shipped across federal borders to slaughter plants in Mexico and Canada each year. What most people don't realize is that 92% of the horses sent to slaughter are sound, young and healthy. These are among America's finest and brightest horses, including sacred Native wild mustangs and burros taken from their rightful homelands, champion show horses, Thoroughbred racehorses, and even summer camp ponies.
---
Click on the link for "Seeds of Life" to create a compassionate legacy today. Learn more about our compassionate annual giving fund


Contact WFLF by phone 310.439.9817 or email .
Donations to the Wild for Life Foundation are tax deductible to the full extent permitted by law. Federal ID No. 26-3052458