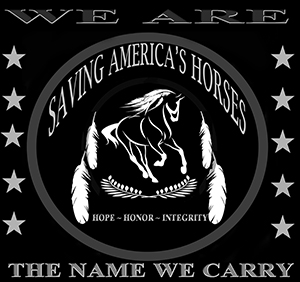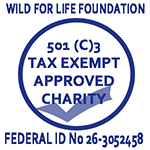 The Wild For Life Foundation is a Certified, Trusted, Fully Vetted, Top Rated and Awarded Charity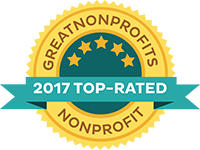 Federal ID No. 26-3052458
PRIVACY POLICIES

The Wild For Life Foundation is committed to being in compliance with WFLF operational policies, as well as relevant State and Federal laws and regulations in order to protect its mission, its beneficiaries, it assets and to honor donor/ grantor intent.
Mission in relation to Privacy
The WILD FOR LIFE FOUNDATION (WFLF) is dedicated to the prevention of cruelty to animals and the protection of wildlife. WFLF achieves its mission through operating animal rescue, sanctuary and humane educational programs. Through WFLF's equine rescue and recovery program the WFLF strives to provide community enrichment equine wellness activities together with robust equine-therapy programs which may inherently provide benefits for disadvantaged youth, veterans and others suffering from trauma, such as battered women, victims of domestic violence, or stalking, and their families. The beneficiaries of WFLF (the rescue animals it serves) in turn receive an enhanced benefit as a result of WFLF's community enrichment programs.
Philosophy
It is a standard policy of WILD FOR LIFE FOUNDATION to protect the personal, sensitive and confidential information of all program participants. Ensuring participant security and privacy is vital to WILD FOR LIFE FOUNDATION mission and its beneficiaries. It is critical for trust, support, loyalty, and long-term sustainability of WFLF to strictly adhere to these policies.
Neither physical nor verbal violence are not acceptable at the WILD FOR LIFE FOUNDATION. Confidentiality and privilege are key to keeping program participants safe and represent the cornerstones of all successful WFLF advocacy and shelter programs.

At its most basic level, confidentiality equals safety. WILD FOR LIFE FOUNDATION must therefore protect its Mission and charitable program's legal obligations and potential liability under federal and state confidentiality laws. WILD FOR LIFE FOUNDATION implements and upholds program participant security and privacy policies in accordance with regulations per RCW 5.60.060(8).
WFLF's Participant Security and Privacy Policy respects participants' security, safety and privacy. WFLF therefore does not share, sell, or rent the names, contact information, financial or any personal information about its program participants.
Donor Information Security
WFLF policies require that the privacy of its donors is protected. Donor information including private contact and financial information of donors is protected under stringent security measures which are adhered to at all times. It is the policy of the WILD FOR LIFE FOUNDATION to be accountable to the privacy of its donors by strictly adhering Donor Security and Privacy Accountability Standards.

WILD FOR LIFE FOUNDATION respects donors' privacy by not sharing, selling, or renting names, contact information, financial information or and personal information of its donors.
* Fundraising shall be truthful and accurately described.
* Donations will be spent in accordance with the donor's intent.
* Donors will receive prompt, forthright answers to questions.
* Donors have the right to be informed of the organization's mission and purpose.
* Fundraising will respect the dignity and privacy of those who benefit from the organization's activities.
* Donors will receive appropriate acknowledgment and recognition for their gift.
* The organization will respect the donor's requests to remain anonymous.
* Upon request, donors are entitled to promptly receive the organization's most recent stewardship report and proof of 501 (c) 3 tax-exempt status.
* Donors will have the opportunity to have their names deleted from mailing and fundraising solicitations. Their opt out request will be honored promptly.
* Donors can expect that all relationships with individuals representing the organization will be professional in nature and that they will be treated with respect, compassion and dignity.

* Additional information about our policies is available upon request