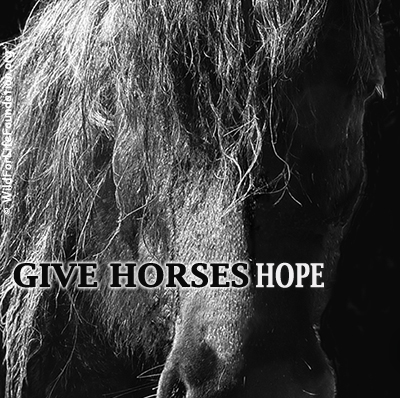 Katzman
January 1, 1991 - March 28, 2015
In tribute to a very special stallion, Katzman, an American wild Mustang recently rescued under the WFLF Wild Horse Rescue and Recovery Mission. We thank all of you for your kind prayers of love and for caring and sharing on Katzman's behalf. We are profoundly saddened to report that despite receiving the best quality veterinary medical care possible, Katzman was unable to make it through.
Katzman had the hands of angels upon him and was bathed in love from the time he was originally rescued just over 20 years ago. This noble and majestic wild stallion was a roundup survivor who was recently rescued from the brink of death for a second time after many long years in sanctuary. Katzman was part of the one hundred and fifty Mustangs that had lost their home in New Mexico and were on the brink of going to slaughter. He recently came to California for intake under WFLF's wild horse program with the last few surviving members of his family herd. Katzman, a senior Mustang in his 20's, was among the several arrivals that had previously struggled and suffered through their turmoil in New Mexico. Katzman was receiving quality professional veterinary medical care together with constant tender loving care from the Wild For Life Foundation team. However for our sweet Katzman and his struggles were far beyond what anyone could imagine. Katzman was a fighter and a survivor, but he could not withstand what was later found to be an internal rupture to his intestinal track.

Katzman was surrounded in sacred beauty through to his final moments by our team of kind, compassionate and loving equine care professionals, staff and volunteers who never once gave up on him.
The significant marking of time in the lives of these sacred and historic wild horses, sends a powerful message of just how delicate and precious life is, and how important it is to protect and honor these majestic beings. These precious and noble animals are symbols of freedom; icons in the history of mankind. But they are in peril. Their children and family are being killed off and they have lost their native range-land homes.
Despite all they have suffered and continue to endure, their hearts are forgiving to mankind. These precious four-legged relatives are in fact healing our hearts and showing the world how horses and burros can in truth heal our lands.

Through Katzman's inspirational story of courage, love and survival, he will continue to strengthen our hearts and bring us hope for generations to come.
We at the Wild For Life Foundation are profoundly saddened by this tremendous loss. We are honored to have come to know his kind and gentle spirit. We will never forget him and will always treasure the precious time we shared together with him. May his spirit live on forever and may he now finally be forever free and wild, Aho
Saving America's Horses
Wild for Life Foundation
~ ~ ~ ~ ~ ~ ~ ~ ~ ~ ~ ~ ~ ~ ~